Quick 30 Pro (2000)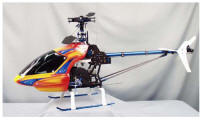 For 30-32 size engines with full 3D capability with Carbon frames and full metal construction including fan assembly.  Rotor head used 2 radial and 1 thrust bearing with head button plus dual stainless steel blade spindles and machined metal grips with 7mm main shaft damped head.  Tail had dual bearings in the slider, tail pitch lever and also the blade holders.
Warning: No images in specified directory. Please check the directory!

Debug: specified directory - http://www.vrhc.co.uk/images/RC_Helicopters/USA/Quick Worldwide/Quick 30/gal1
Quick 30 Pro build manual  -  Detailed manual with photo assembly sequences.
Quick 30 Pro review - Build and flying review from March 2001.
Quick 30 Pro review - Review by Irwin from 2002, including historic development information.
Early in 2002 a 'metal' frame upgrade was provided for the 30 pro - metal frame update - giving the same frame layout as the 'learner' model.  From this date on the 30 Pro was thus available in two versions; the basic30 Pro EMS and the 30 Pro EMS Carbon, the later having a number of other upgrades as well as the frames; note that these differences resulted in the carbon version being $100 more than the 'metal' version.

Advert with specifications for both revised versions of the 30 pro from 2002.
Quick 30 Pro parts - General spare parts listing for 2002.  
Quick 30 Pro review - Build and flying review Jan 2003 from MHW (Words only précis version).     
For 2005 the 'metal' version was dropped from the range leaving just the Pro Carbon model however, early 2007 saw the return in the price listings of the Sport G10 version.  May 2008 then saw the model removed from the web site though still in the general price listings and even as late as 2012 a full spares price list was advertised.