Quick Big Mamma (2007)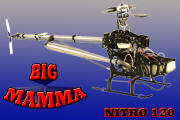 Advertised late in 2007, the 'Big Mamma' was basically an update Dominator for the 120 size Nitro engines that had been making an appearance in the very large model helicopters of the day.  Available in Sport G10 and Pro carbon version but only by special order as these machines were built on customer orders.
Specifications

w/ Canopy 50 3/8 in
w/o Canopy 44 in

21.25 in

10.75 lbs

Customer Choice

OS 120

Customer Choice

HHI8050 (60 Size)

700-710mm

95mm (Wide Cord)

3mm

1650-1950 rpm

11 or 12 Tooth

Pro - Dual Spindle (8mm)
Sport - Single Spindle (8mm)

10mm

Differences Between Sport and Pro Kit

 

Sport

Pro

G-10 Fiberglass

Carbon Fiber

Single Spindle Full Metal Head

Dual Spindle Metal w/ Thrust Bearings

Yes

Yes

Fiberglass

Carbon
Warning: No images in specified directory. Please check the directory!

Debug: specified directory - http://www.vrhc.co.uk/images/RC_Helicopters/USA/Quick Worldwide/Big Mamma/gal1
The model was to remain until QWW ceased trading.