GMP - Gorham Model Products
By the late 70's the large proportion of the RC helicopters available in the US were from European manufacturers; Schlüter in particular.  Although they were good, the import duties and shipping costs meant that they were very expensive and outside of the 'average family man' modellers budget.  In 1979 John was commissioned to make a RC helicopter for filming purposes; this project proved to be very successful and as he retained the rights to the tooling he produced a handful of kits which immediately sold.  John had used the Micro-Mold Lark as the basis for his helicopter as he had discovered that a basic, uncomplicated, pod and boom helicopter could be made cheaply and was exactly what the US market was missing.  Though helicopters had been produced in the USA before by Du-Bro, etc, John in the guise of GMP became the USA's first major player (i.e. international) in RC Helicopter production.  GMP became the importer for a number of makes and formed a manufacturing partnership with Hirobo and development was a joint affair however, though this proved successful for a number of years it was to eventually prove to be the companies downfall.  GMP's range of machines was not large but they were good, having had a head start by adapting known machines however, after a few years they decided to develop their own machine.  It is ironic to note that just as GMP was about to go into production of 'their' first machine, 'financial' difficulties were experienced between the two companies forcing a split.  GMP tried to re-finance and tool up to cover 100% manufacture of their range; this aspect was especially important regarding spares supply in order not to alienate the thousands of owners of helicopters already flying.  Unfortunately it was to no avail and GMP suddenly ceased trading and their promise of the Viper faded into history................
Working Hard to Keep 'Em Flying  -  Report compiled at the time for a newspaper article covering GMP financial difficulties. 
HOWEVER..........  GMP helicopters did not fully fade away and the designs and rights for the GMP range were bought by Bill Curtis of Tech Specialties who made plans to rejuvanated the later models; this company was then bought out by Kam Wyatt who formed PHI (precision Helicopters Inc) who then updated the design to become the PHI Tornado 3D and thus the 'Legend' lived on.!!!!
Similarly, the GMP Rebel was also updated; marketed under the company name Revolution and called HoverStar. 
You find a lot of additional informaions on Marc's GMP site
GMP timeline

 

| | |
| --- | --- |
| 1979 | Cricket |
| 1982 | Hughes 300 |
| 1982 | Competitor |
| 1984 | Cobra |
| 1985 | JetRanger |
| 1988 | Legend |
| 1989 | Rebel |
| 1990 | Viper |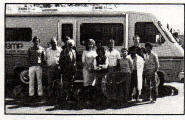 84 company line up 



84 accessories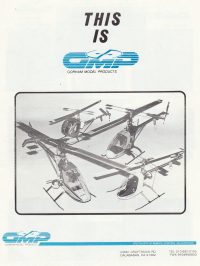 85 company information

1984 competition results
Hind D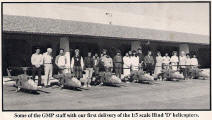 GMP staff and Hind line-up.
Fifth scale drones developed for the American military with Kawasaki engines and cost $80,000 each; contract sold to Boeing of Canada.
Viper
GMP only produced a few prototypes before they suddenly ceased trading in 1990.
Extremely rare with modern restoration review here 
GMP Miscellaneous
GMP Various rotor heads  -  Cobra & Competitor tips  -