Considered as the 'founding father' of Model Radio Controlled Helicopters after his successful first five minute flight followed by the official 'World record' for a flight (not just hovering) of over 27 minutes; thus confirming that full control of an RC helicopter was possible.  Despite other claims, Dieter Schlüter was the first to successfully utilise model size engine and radio control equipment in a package that was relatively basic which any experienced modeller could build (however to fly it was another thing).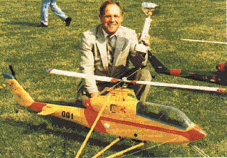 Dieter and cup (not the original helicopter but a later posed photo).
After the successes at Harsewinkel and the world record flights Dieter initially produced kits of the redesigned cobra himself from late 1970 however the demand was such that he needed a partner and late in 1971 teamed up with Schuco-Hegi.  By the time of the February 1972 Nürnberg toy fair they had taken over full production under the guidance of Dieter.  1973 saw production of another model, the DS-22 plus the use of floats as a training aid.  Unfortunately the partnership with Schuco-Hegi was to prove short lived and in 1973 they pulled out leaving Dieter with things in a disarray.  He decides to 'go it alone' and puts on hold his new projects to concentrate in keeping up spares supply and organising manufacture of the kits currently for sale.  The result being that in 1974 at the Nuremburg toy fair, 'Schlüter Modellbau' is presented to the world along with the Gazelle; mind you, all his friends consider that he should have done that right from the start..................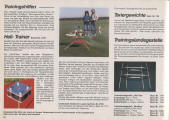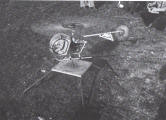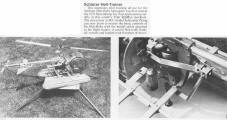 Training stand introduced in Nürnberg 1976.

Dieters Schlüter's book; considered the helicopter 'bible' by many and where much of the early historic information for this web site has originated.
Below is a list of the Schlüter models and first manufacturing year - note that Robbe took over distribution/manufacture of Schlüter helicopters in the 80's and later bought out the rights to the full range and the Schlüter 'name'.  As they already had models of their own they used the double-barrel name Robbe-Schlüter to denote the ex Schlüter machines then once the naming rights expired future helicopters were marketed their own brand name of Robbe. 
I have considered the 'break' point as the Magic model as the first version was the last produced under the Schlüter name and from this model onwards, though Dieter was on the design team they will come under the Robbe section.
Once Robbe rights for the Schlüter name expired Dieter then decided to return to RC helicopters with his aptly named 'Comeback' model.  Technically very good it did not however, really make much of an impact commercially.
Schlüter timeline

 

1967/70 - Prototypes leading up to the successful Cobra flight

 

1970 -

Schlüter "home-made" Bell-Huey Cobra

 

1972 - Collaboration with Schuco-Hegi to manufacture/distribute the Bell-Huey Cobra

 

1973 - DS-22 (first batch of kits with floats) and Schuco-Hegi pulls out of agreement

 

1974 - 'Schlüter Modellbau' formed - Gazelle

 

1975 - Heli-Baby

 

1976 - Super-Baby

 

1977 - Bell_222

 

1978 - Heli-Boy

 

1979 - System 80 control system, Bolkow Bo 105 and Hughes 500

 

1980 - JetRanger, Cheyenne and

Photo-Helicopter Mk1

 

1981 - SX-81

 

1982 - Mini-Boy and AS355 Twin Star

 

1983 - Superior

 

1984 - Heli-Star and Augusta 109

 

1985 - Champion and Bell Long Ranger III

 

1986 - BK 117

 

1987 - Junior 50 and Scout 60

 

1988 - System 88 control system

 

1989 - Magic, Magic Ranger and

Bell_222 UT (Junior 50)

 

1995 - Comeback

 Schlüter logo.
Dieter has his own web pages www.dieter-schlueter.de and though in the German language (as you would expect) there are many interesting articles.  Of interest is the 'Schlüter museum' selected by clicking on "Zum Hubschraubermuseum" and then "Details der Vitrine".  The picture below (hyperlinked to Schlüter's site) opens up when this page is selected and then if you click over a specific item, a high resolution close up photo of that item will open up - neat.
Alternatively engage 'Google translate' and it covers his helicopters in detail and especially the beginning.

 Exibition on the occation of 50 years RC-helicopter on the Wasserkuppe/Germany.