Schlüter Bolkow Bo105 (1979)

 


  Specification:


| | |
| --- | --- |
|  Length |  1320 mm |
|  Width  |  mm |
|  Height  |  mm |
|  Rotor Head |  collective head |
|  Main Rotor Dia |  1300 mm |
|  Tail Rotor Dia |  270 mm |
|  Engine |  .60 cu in  (10 cc) |
|  Gear Ratio |   |
|  Weight |  4400 g  |

 

Documents: 


System 80
Bauanleitung
 
 
 
 
Reports:
 
 
 
 
Scale helicopter with Bell_222/Heli-Boy mechanics with either standard system 80 Bell-Hiller head or the four blade scale head option.
Tail gearbox assembly  -  1985 article with hints for assembling Schluter tail gearbox and tail rotors.
Len Mounts 1985 award winning models of the Bolkow Bo105;
 Champion head with Heli-Star mechanics.
BO105 with 4-blade head
 It has been stripped down to check that everything appears OK and in fact it had been very well built.  The only things I found were a few mechanical adjustments needed as I like to make sure that everything works as it should with 100% throw on servo's so that full mechanical movement is possible without binding.  As an engineer I do not go for using the 'computer' in the Tx to make up for a 'poor' mechanical installation.
It is fitted with a 'Champion' head on 'Heli-star' mechanics along with a 'proper' Schlüter exhaust so hopefully it will be reasonably quite.  The exhaust though protrudes from behind the LH side of the boom; I would have tried for a more 'scale' exit or at least through the bottom.  It has standard Futaba servo's, a 'period' mechanical rate gyro plus some working lights; they do not flash though I will probably fit a 'flasher' at a later date.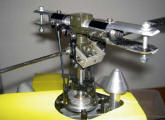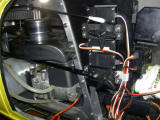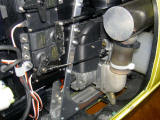 Remember, keep leads tidy so they don't get caught in the One thing I did find that for a 61 it was not that responsive and 'bogs' down with pitch.  I was though running it quite rich to keep the engine from 'dying' and thought that an extra cooling duct around the engine was required so that I could 'lean' it out a little more?  Also it is very, very heavy for its physical size compared to those with dedicated mechanics or later scale machines.  However, when checked over the engine compression was not that good so mechanics stripped out and engine stripped to check; sure enough liner had a wear ridge indicating it was quite worn.  Replacement liner and ring fitted and all rebuilt ready for testing.  Running rich and a windy day so really struggled to hold side on though controls not yet fully adjusted / harmonised; sluggish in pitch as it is one heavy machine for its size.  After a couple of hours with engine fully tuned and controls harmonised it is much better.  Because of its weight it is still sluggish but positive to the controls and can be flown at quite a speed though it takes quite a while to slow down.  Tail control is adequate and care has to be taken due to running a rate gyro in that it can swing badly with a tail wind if you try doing manoeuvres more suited to heading hold gyro's.