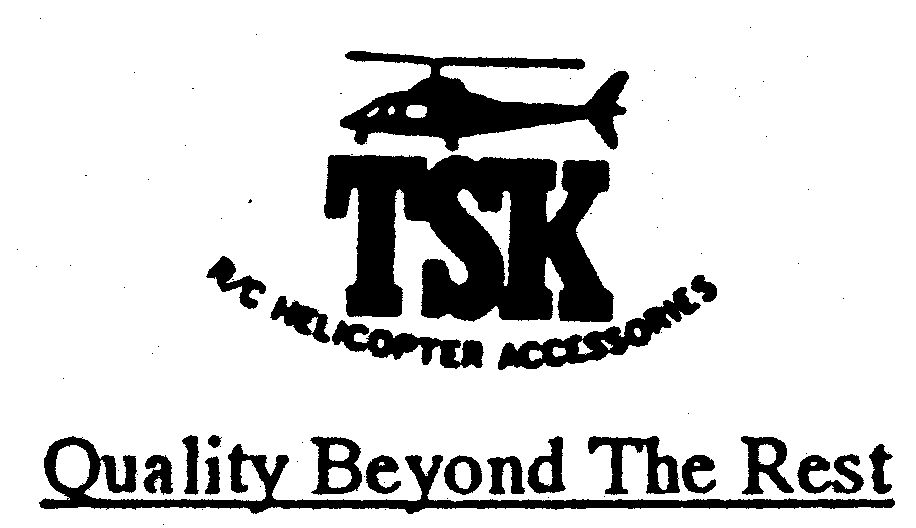 TSK


For current TSK information then see the facebook page - TSK Helicopters run by Silas Kwok, who's name will 'pop up' in the history of TSK as I develop the site. Current information is being posted on this page along with machines that are in use; nice to see a classic make still being appreciated.
TSK
Originally the company was founded in 1960 by Takaichi Tomiya, called Tohkoh Seiki Corporation; based in Tokyo with initially only three employees and specialising in making camera parts for Pentax, Ricoh etc.  The company expanded over the years and because of their experience in high quality small components, in 1978 they moved into making high specification upgrade parts for RC helicopters; Kalt helicopters in particular and were partnered with WCP (World Creative Products) for marketing their products.  
In 1981/82 with experience gained in the upgrade market they started to produce their own helicopter kits called the Kaiser and Kaiser S.  In a similar manner to Kalt, TSK helicopters were not supplied with a rotor head so purchaser could fit the head that was best suited for their requirement / experience.  Following on from these initial models were the Super Kaiser II, Kaiser Ace, Black Star, Five Star 30, Black Star-DL (Dual linkage) and Black Star-DL GSII with 32cc petrol engine.
In 1990, TSK stopped producing camera parts and concentrate on helicopter production changing the company name to TSK Co Ltd.  With a change to new premises there was a drive to increase their share of the world RC helicopter market because whilst the TSK range had been available in the USA from first introduction it was not until this 'push' that they were finally available in other countries with import into the UK by Andy Gray.

TSK line up 1993.
As noted in the brochure above, the model range of 1993 still included the Black Star, Kaiser Ace and Black Star-RS (option variant?) as well as their newer counterparts.
Over the next few years their 'high quality, lower price' Mystar series was introduced in two sizes, 30 and 60 followed by the 46 which was basically a 60 with a smaller engine.  The 60 was then further developed with Carbon shaft drive followed by the GS version with 24cc petrol engine.  In 1997 the 'agricultural' TSK GS62 was developed utilising a 62cc petrol engine, later followed by the Acrostar which was then updated in 2000 to the V2 model.
TSK helicopters were very expensive compared to other makes, which was not surprising as they incorporated all the experience gained in the 'upgrade' market and their 'standard' fit was the equivalent to other manufacturers models including all their optional extra's.  They were well respected for quality so if you were looking for a helicopter at the top end of the performance scale with a high level of reliability then TSK could deliver.  However, as parts were expensive, to repair after an accident would also cost a lot more than other makes so for pilots at the lower end of the experience scale, a TSK was an expensive choice.
TSK performed very well in the FAI F3C World Championships with Shigetada Taya flying a TSK Kaiser taking first place in the fist competition in 1985.  Tatsuya Lyobe flying a Kaiser took 2nd place in the second World Championship competition at Bern in 1987 followed by Ishikawa at 4th place in the 3rd WC at Virginia with a Black Star special plus Ikeda and R Gorham flying TSK at the 1991 WC.  Note that Taya moved on to Kalt to design their Omega range and after that went on to design his own helicopter (Imperio 60) and the Thunder Tiger Raptor range.  Lyobe went on to found the 'Quick' company and then began making upgrade parts for the TSK range plus a number of other manufacturers machines.
It was rumoured that the C.E.O. of the company (nephew of the owner) had been slowly bleeding funds from the company and by the time it was considered, the company was in a poor way financially.  Takaichi Tomiya returned to take over and managed to keep TSK afloat but in the end it became too much for him and he retired thus forcing the company to be put up for sale; there were no takers and so TSK came to an abrupt stop and ceased trading in January 2001.
Back in the USA a company called 'Helitech' attempted to 'gather up' all the remaining TSK parts available in the USA with a plan to provide a 'global' parts support for TSK helicopters with a view to eventually carrying on the line by full manufacture.  Unfortunately they sold the parts at quite a high price and as a number of TSK dealers had kept there cache of parts, the project was not a success and as of yet it is not confirmed if they ever managed production themselves of parts.
In Japan, another company called 'Hi-Products' bought out TSK with a view to recommencing manufacture at TSK standard however, this too never materialised.
Though the TSK line came to an end it's legacy did live on.  As noted earlier, the Quick company of Tatsuya Lyobe manufactured parts to an equivalent standard and when TSK stopped trading, in conjunction with HHI of the USA they developed their own line of helicopters utilising many of TSK design features and Quick's own replacement parts.
TSK Timeline
 

1981

- Kaiser / Kaiser S

 

198# - Super Kaiser II

 

198# - Five Star 30

 

198# - Kaiser Ace

 

198# - Black Star

 

198# - Black Star-RS

 

1990 - Five Star 30V

 

1992 - Black Star-DL

 

1993 - Black Star-DL GSII

 

199# - Mystar 30

 

199# - Mystar 60

 

199# - Mystar 46

 

1997 - Mystar GS62

 

199# - Mystar 60V2

 

1999 - Mystar 60EMS

 

199# - Acrostar

 

2000 - Acrostar V2
TSK Jaz Ranger (1991)
F3C body for the TSK 60 size models.