MFA - Model Flight Accessories

For current MFA Sport 500 information then see the facebook page - MFA Sport 500 run by Mark Stevens. Current information will be posted on this page along with machines that are in use; nice to see a UK classic being appreciated.
MFA Hughes 500D (1979)
 


 Specification:

 

| | |
| --- | --- |
| Full Length of Fuselage(mm / in.) | 39" (990 mm) |
| Main Rotor Dia(mm / in.) | 43 inch  (1092 mm) |
| Main Rotor head  | Morley fixed pitch teeter head. |
| Tail Rotor Dia(mm / in.) | 9.5 inch (241 mm) |
| Engine | .40/.45 cu in  (6.5/7.5 cc) |
| Full Equipped Weight(g/ lbs.) | 7.5 Lbs  (3.4 Kg) |
| Radio | Four channel with four servos |
It was designed from the beginning as a scale model for '40' size engines utilising the Morley developed fixed pitch mechanics; in this way it would have proven flight characteristic and also help minimised development work.  The chassis followed the Micro-Mold Lark layout of a single plate for the mechanics with extended framing into the cabin area to house the radio equipment.  Tail drive was by wire and the tail boom was actually the tail section of the body which was bolted to the main frame as in the photo above; main body being a separate removable shell.  Main chassis and landing gear was made of aluminium and with the 'Tee' tail layout meant that it was quite tail heavy.  Fortunately the large body allowed the radio gear, especially the NiCad receiver battery, to be positioned as far forward as possible and thus minimal nose weight, if any at all, was needed for balance.  Rotor head was of the teetering type and following Jims practice had a slim bar main blade shaft which flexed slightly to give the 'flapping' action.
The models relatively heavy weight and fixed pitch rotor head meant that it was only a 'sports' flyer and was marketed for learners and those who wanted something basic but actually looked like a 'real' helicopter.  Report promised in RCM&E but so far (as of Jan 2011)not found it..... 
 
1984 advert - Price remained the same as introduced and the model was obviously still in production but no real info in the magazines of the day.
 
   MFA 500D modified with later Morley collective head.
Because the 500D utilised Morley mechanics it was possible to upgrade the helicopter to collective pitch utilising readily available Morley parts developed in the early 80's and fitted to Morley's own range of scale helicopters.

Historic Note - Dec77 advert of Hughes 500D from Runway SW in Plymouth.
Fitted with Morley mechanics and 60 size engine and maybe the design idea for the MFA 500D; though the fuselage does not look too scale around the nose area.
MFA Sport 500 (1987)
 Specification:

 

| | |
| --- | --- |
| Main Rotor head | MFA fixed pitch 'rigid' head. |
| Full Length of Fuselage(mm / in.) | 42" (1067 mm) |
| Main Rotor Dia(mm / in.) | 41 inch  (1040 mm) |
| Tail Rotor Dia(mm / in.) | 8.6 inch (214 mm) |
| Engine | .40/.45 cu in  (6.5/7.5 cc) |
| Full Equipped Weight(g/ lbs.) | 7 Lbs  (3.2 Kg) |
| Radio | Four channel with four servos |

 

 

Documents: 
 
First version with fixed pitch rotor head.

Feb 1989 - Full collective pitch kit version.





Mar 1989 Instructions for fitting autorotation upgrade.

 
Sep 1988 notification of Bluebird 46 engine available through MFA , revised tail control cable
Dec 1988 Upgrade for fitting of a larger fuel tank for extending flying times.

Instructions for converting a standard MFA Sport 500 into a Hughes 500

Mar 1992 Instructions for setting gear mesh, new GRP rotor head and cone starter.

Mar 1992 Instruction for Mk2 revised tail coupling - released before introduction of Mk2 as this tail drive upgrade 
Jul 1992 Instructions for setting up the Bluebird 46 engine as supplied with the ARTF version.



 Introductory piece from MFA; the prototype they mention must have been the earlier 1979 version.

      


Oct 1987 - Introductory price for the new MFA Sport 500.
The original machine had been reasonably popular but by the mid eighties all 'trainers' were of the 'pod and boom' format with scale models being considered for more experienced flyers.  Sales had thus suffered because of this generalisation and so MFA redesigned their original model and introduced in July 1987 a pod and boom helicopter trainer.  Because the original machines internal layout had been arranged to fit inside a scale body, to revert to a 'pod and boom' format required a redesign of the cabin area and the addition of a tail boom.  It was decided to stay with the fixed pitch control and so a new head assembly was designed which incorporated a spring damped 'flapping' action.plus the decision was taken to update to ball bearings in the clutch drive spindle which meant that the plastic gearbox housing could no longer be used resulting in 'open' gearing.  The model proved to be a useful if not sparkling entry, for a relatively small cost, for those looking for an introduction to RC helicopters.  As the model retained the undercarriage of the original version which gave it quite a 'distinct' stance so in order to keep this look, the nose cone for the basic model was made to emulate the current 'E' version of the full size Hughes 500. 
Unlike a completely new manufacturer, MFA already had a US importer (Hobby Lobby) for their other modelling products and so in the USA, the Sport 500 had the benefit of a good level of advertising along with an already established supply chain.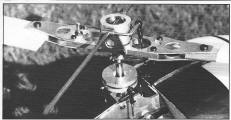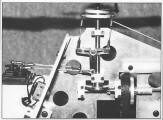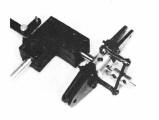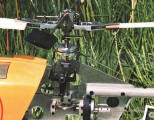 General mechanics layout; very simple and clean though open metal gearing???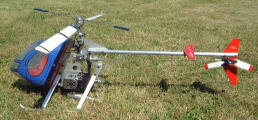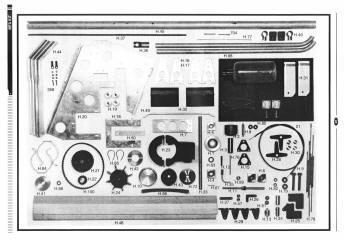 Parts view magazine model description and first impressions (related report below).
The MFA Sport 500 was designed for a specific area of the market; those without a lot of money or experience.  The function of the MFA Sport 500 was to get raw beginners past the hovering stage and up to the lazy eight level with perhaps a little bit of circuit work.  Fixed pitch was employed for both its inherent 'cheapness and simplicity' without compromise to the design philosophy.  Tyro's can spend many hours at the hovering stage requiring almost constant conditions of pitch and revs thereby making a 'collective' pitch assembly mainly redundant under these conditions.  The lack of response though was a major criticism of this type of control (by competent pilots it must be noted) however, in many respects this is what a learner requires and conditions not suitable for fixed pitch helicopters are probably non too suitable for learning.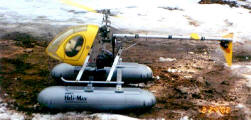 The fact that it was seen as 'cheap and cheerful' did have its drawbacks.  Many purchasers would have been 'plank' flyers trying their hand at helicopters and with nothing more complicated than 'aero' equipment being required in all likelihood the 'tired' ex aeroplane 40 engine would have been used.  A worn out 40 was the last thing a helicopter in the hover needs and many overheated due to over loading and/or running lean.  The secret was to fit a new engine, correctly run it in and when set slightly rich with the correct blade pitch there was no lack of lift.  Additionally, this kind of basic 'cheap' helicopter also suffered from being past around once the first learner had worn it out.  Once this type of head suffered wear then the already slow response became increasing 'indistinct' until cyclic control was not effectively achieved.  Passed on in this condition and a reputation can be quickly achieved for being 'crap'.  Additionally, as can be seen above when fitted with floats, although very useful for learning, in this configuration so much lift would be lost by the floats deflecting the rotor downwash that if a 'poor' engine was fitted, it would not make it past the hover.

Reading the magazine reviews of the day actually shows another view in that most considered it to fulfil its designed function and control was more than adequate.  One area that was shown to be lacking was tail rotor left control in flight.  Slightly bigger tail blades cured this to an extent and so did slightly reducing main blade pitch in order to get an increased head speed; this also had the benefit of speeding up cyclic response.  A number of 'home made' modifications were shown in the magazines that helped to improve the overall characteristics of the helicopter.
Sport 500 Upgrades  -  Aug 1988 suggestions for modifications to improve operation and reliability; courtesy Model Helicopter World www.modelheliworld.com
Historic Note - The MFA 500 layout was used in 1989 by Tim Angel as the basis for an improved (but even cheaper?) version to be distributed by Rotair and called TYKE.


The general layout of the 'new' model had not been significantly altered and in line with the revision to the trainer, the fuselage was also developed into the next 'E' version of the Hughes 500.  Brought out initially as a full kit for more experienced flyers then as an upgrade 'hang on' body kit for retro fitting to the pod and boom model.  It was again a little tail heavy however this was more easily compensated for by the 'E' version pointed nose layout which allowed the flight battery etc to be mounted on an extension into this elongated area.  Though it flew well for general circuit work the collective pitch upgrade (once available in 1989) was recommended for better control of the approach as being a heavier and more streamline than the trainer required more planning with the fixed pitch head if 'overshooting' was to be avoided.
MFA Sport 500 Collective (1989)
Fixed pitch control whilst adequate for hovering and basic learning, was totally lacking for more spirited flying and thus a collective pitch rotor head was developed and the model was released in a 'Collective pitch' version then shortly after introduction a upgrade kit followed in order to modified the older fixed pitch version.  With the addition of collective pitch came the potential to carry out an autorotation and for those so inclined, a 'freewheel' unit was available as an optional extra.
Sport 500 Improvements  -  1989 suggestions for modifications to improve operation and reliability.

1989 - No load starter adapter from Heli Improvements.


Updated one
piece clutch


 

Sport 500 Collective Pitch


1989 Radio Helicopter International
Sport 500 Collective Pitch review
1990 Courtesy Model Helicopter World


April 1990 - ARTF version of fixed pitch model
with Bluebird engine included.
 
Dec 1990 - New cooling fan and ducting for
more effective engine cooling.

Feb 1992 - Collective pitch model
now with autorotation as standard.

Aug 1992 - Cone starter and
training undercarriage.



1993 - revised rotor head with symmetrical blades for inverted performance.
MFA Sport 500 Mk2 (1993)
The Sport 500 collective had been updated progressively with a number of modifications such as autorotation, better cooling, simpler starting and finally with symmetrical blades.  Unfortunately there was little else that could be done without a major redesign which would be very expensive especially as the new machine would no longer be the 'cheap' option and would have to compete with the likes of the Shuttle.  However, a number of weaknesses had showed up over the years especially with the metal main gears and clutch so it was decided to carry out one last revision and produce a final version which would deal with all the little 'niggles'.  These revisions were;
Revised clutch with a single piece shoe instead of the built up assembly.
Revised main drive with a plastic moulding gear in place of the metal driven gear.
Revised rotor head with larger paddles and increased collective throw.
Revised engine with Helicopter version available.
Revised tail drive and supports.
Stronger engine plates to stop it from cracking.
Laser cut woodwork.
Revised four bolt mounting for the canopy instead of the 'wobbly' two bolt securing.
Finally, in order to show that it was a revised version, the whole airframe was anodised Black and the model designation change to Sport 500 Mk2.
Sales continued for a couple more years but it could not compete against machines that required minimal building ability and negligible maintenance.  The fact that it actually needed a bit of engineering and modelling 'common dog' was increasing considered 'old hat' in a world getting more and more used to 'instant Karma'.  As the model had reached the end of its development line it was decided to let market forces apply and the model was allowed to quietly 'die' off and so MFA bowed out of the helicopter market in the UK;  over in the US, Hobby Lobby kept up supply and thus the Sport 500 was still being sold as late as 2003.
Whilst the model had suffered from bad press though the years, though as the reports show a large percentage of the failings were probably the pilots abilities and not directly the models failings; It had a run of nearly 25 years which has only been beaten by the Hirobo Shuttle.   
 Note that as of 2013, MFA still had a small amount of general spares left and can be contacted by e mail - This email address is being protected from spambots. You need JavaScript enabled to view it.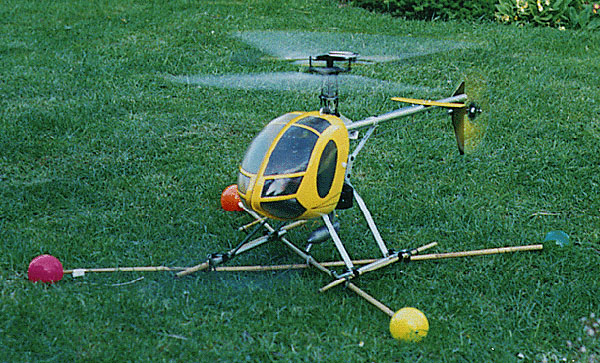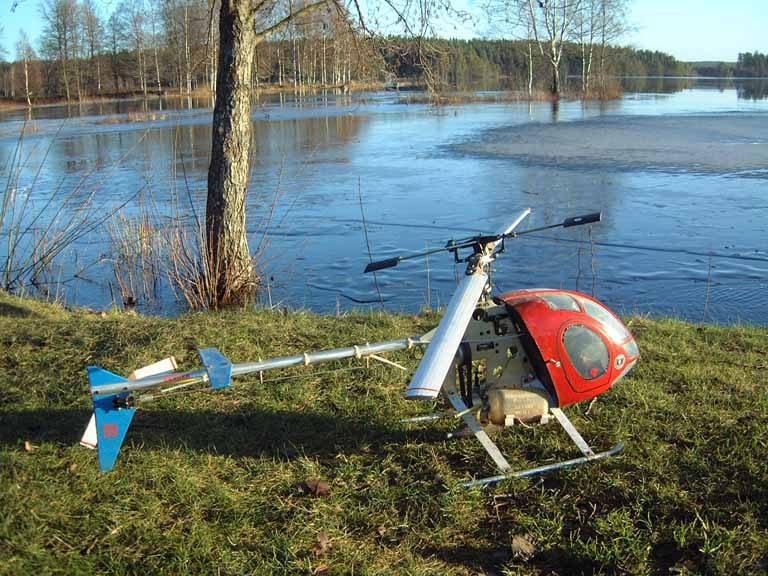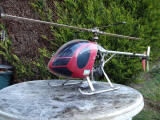 Marks pre-restoration MFA 500 Sport       
Model Flight Accessories (MFA), a British manufacturer of Radio Control accessories, had been involved with Jim Morley for many years in the 1970's manufacturing a number of the moulded components for his 2C helicopter; it was therefore a logical collaboration for designing a RC helicopter to be marketed under there own 'banner' with the model picked being the popular Hughes 500D.