FRANCE


Model RC helicopters though popular in France did not result in a model manufacturer coming to the fore.  However, in 1983 Jean Broux produced a home design helicopter that was subsequently published in the magazine MRA (Le Modèle réduit dàvion). 
Jean Broux Moustique
General design followed established principles but it did have a couple of different ideas incorporated into the drive train.  One was the use of an aircraft propeller to provide engine cooling so it needed care when adjusting the mixture needle (ouch!!!!!); the other was a double reduction system to the main rotor using double 'O' rings for the drive.  Finally, it was made significantly of wood.
Details:-
| | |
| --- | --- |
|   | Main Rotor head            - Fixed pitch flapping head |
|   | Main Rotor diameter      - 700 - 800 mm (27.5 - 31.5 inch) |
|   | Tail rotor diameter        - 200 mm (7.9 inch) |
|   | Fuselage length             - NK |
|   | Engine                           - .25 cu in (4.2 cc) |
|   | Flying weight                 - 1.7 Kg (3.8 Lbs) |
|   | Radio                             - Four channel with four servos |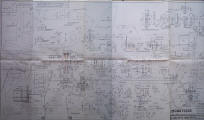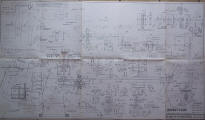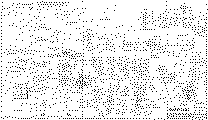 Moustique drawings various detail and resolutions
Moustique build article  -  Sep 1983 from the French magazine MRA (Le Modèle réduit dàvion)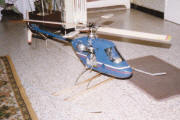 1987 model of Franck Higuet who provided the information on the Moustique