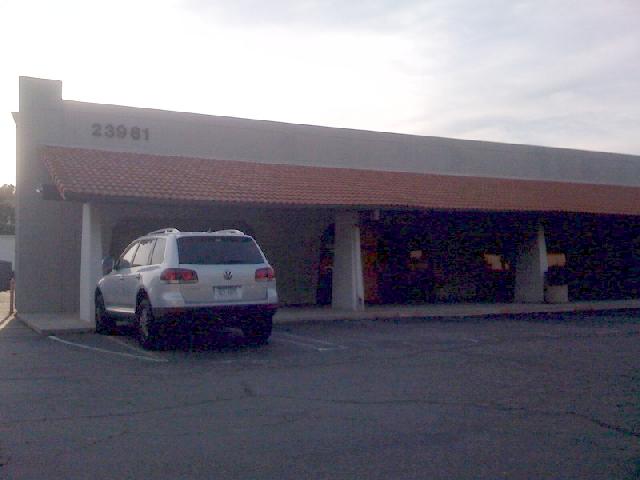 the former home of Gorham Model Products: 23961 Craftsman Road, Calabasas, CA
Reliable, controlled helicopter flight was not achieved until the late 1930's and early 1940's. In this era, research models were powered by electric drill motors and flown with umbilical cords carrying electric power and control signals up to the model.

It was not until 1959 when researchers at Lockheed successfully flew a truly self-contained radio controlled helicopter model. It would take another decade until R/C helicopters could become a viable hobby.

Most of the very early models, if they got off the ground at all, just rolled over and smashed their blades. By about 1974 or 1975, we had model helicopters that were fairly flyable by today's standards, but the reality was that hardly anyone knew how to fly them! One of these early model helicopter pilots was the late John A. Gorham, an aviation engineer by trade, and avid aeromodeler.
In 1979, Mr. Gorham was chosen by the producers of the film All Night Long to create a flying model helicopter for one of the film's planned scenes.
Click picture to watch a test flight of the original Cricket prototype!
Of course, the producers wanted extra helicopters made, in case one should break. There were, according to Mr. Gorham, six original Cricket helicopters made for the film.
The Cricket Scene from "All Night Long"
After the production of the film was complete, Mr. Gorham retained the rights to the Cricket design and tooling. He, along with his soon to be wife Louise, showed three of these intriguing little helicopters at the Long Beach hobby show that year. They wound up selling 55 kits on the spot, and taking orders for 500 more, as another early model helicopter pioneer, Dieter Schluter looked on from the next booth!
The rest, as they say, was history! The Gorhams founded Gorham Model Products (GMP) later that year, as the Cricket was an instant hit, receiving positive press reviews, television coverage, and widespread advertising.
1980's local LA newscast feature about GMP- push play to watch
Approximately 16,000 Cricket kits were produced. Driven largely by the widespread success of the Cricket, with 10 employees, and revenues of $795,000, GMP became the largest U.S. manufacturer of R/C helicopters, and was awarded the INC 500 award in 1983 as recognition for one of the fastest growing privately held companies in the United States.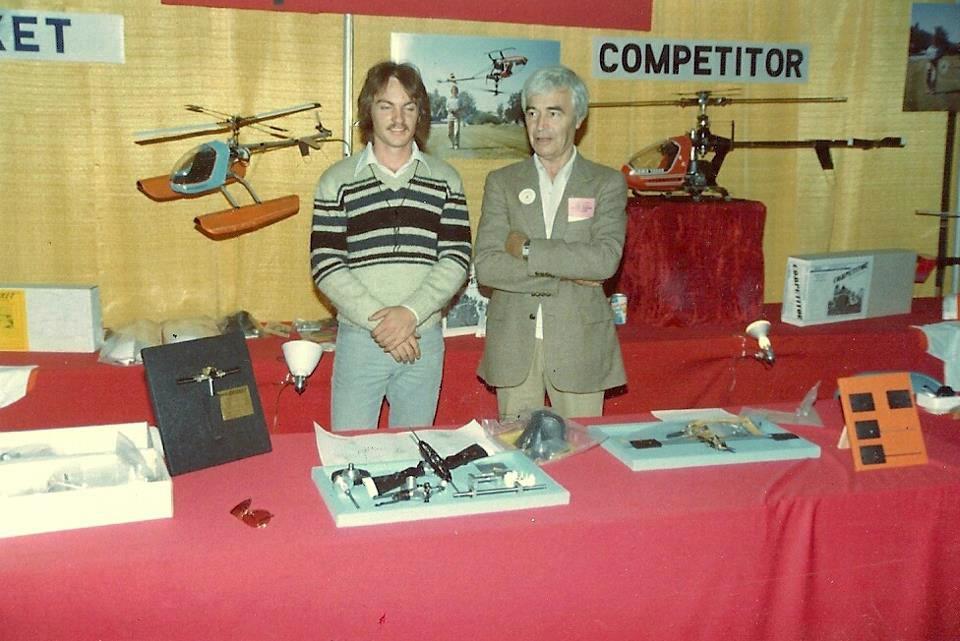 John Gorham and his son Robert at a hobby tradeshow
While the Cricket remains the best known and remembered helicopter of this very early era of the hobby, the company later expanded its offerings and went on to sell a separate line of larger, high-performance collective-pitch helicopters based on Hirobo Falcon mechanicals, the Competitor, Cobra, and Legend. GMP was also the sole U.S. distributor for Hirobo's own Shuttle, Stork, and Scale R/C helicopters. By the early 1990's, GMP had produced yet another unique model helicopter design, the Rebel, and then went on to develop a new high performance, collective-pitch aerobatic helicopter, the Viper, however, the company went out of business before this model could be mass-produced.
GMP Promo Video # 1 - push play to watch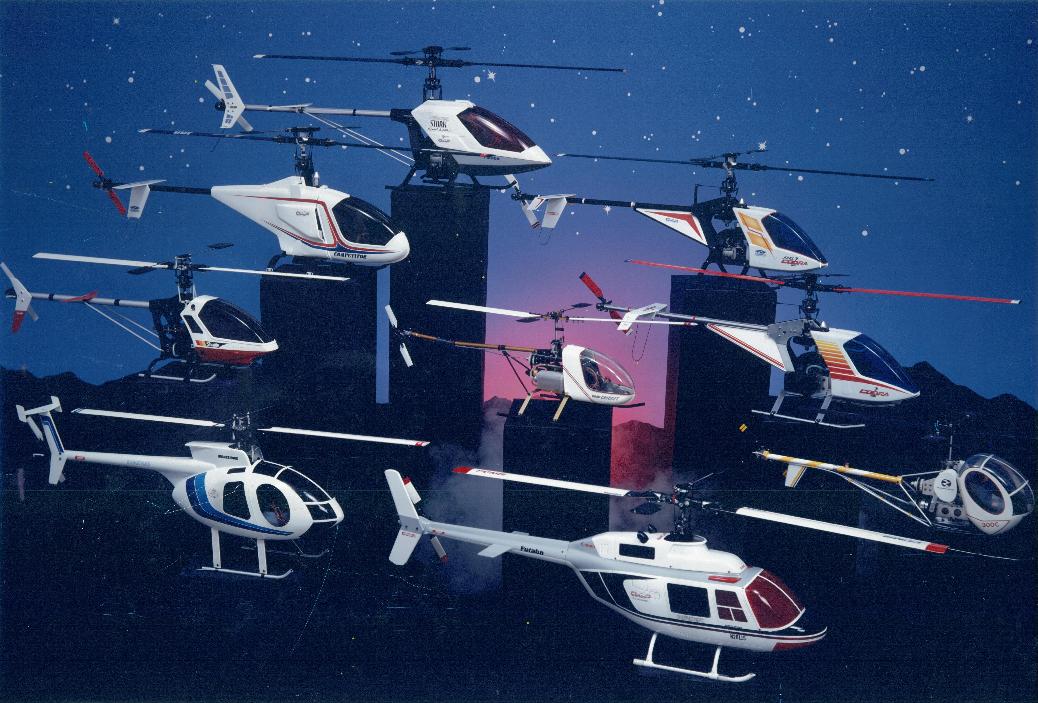 1988 promotional shot featuring all GMP models at the time, plus the Hirobo Shuttle & Stork SE.
(Rebel, Legend and Viper were designed 1989-90)
RC Helicopter Flying, the Video - push play to watch
Towards the beginning of the 1990's, GMP's longstanding relationship with it's Japanese partner, Hirobo began to sour. GMP, once the exclusive United States distributor for Hirobo, had been gradually reducing Hirobo-sourced parts counts in its models. Hirobo and GMP departed from their exclusive relationship, and became embroiled in a major business dispute with each other. Hirobo, Gorham said, started to undercut him by allowing its Canadian distributors to infiltrate his market in the United States. A 1990 LA Times article provides further details.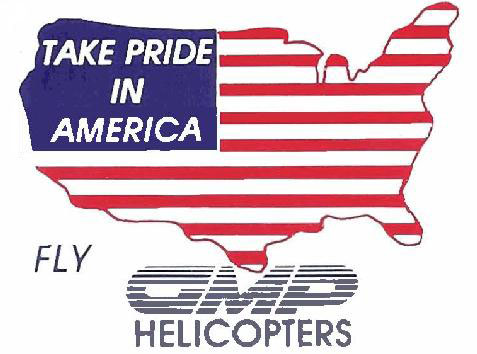 Ultimately, the GMP-Hirobo dispute lead to to the termination of GMP's credit lines with its Japanese lender Mitsui Bank. By 1991, GMP had closed its doors permanently, never to be heard of again.
Gorham Model Products is remembered today as the single most significant American R/C helicopter manufacturer in the history of the hobby.
Many R/C hobbyists and collectors still fly and maintain GMP models today, even though they are all obsolete and long out of production. This website is 100% non-commercial and non-profit. It is intended not only as a testament to the company, its people, and its products; but also as a way to support current and future GMP helicopter hobbyists and collectors. The drawings, manuals, bulletins, and other information on this website is only for hobbyists and collectors and is not to be used for commercial gain. However, if you have found this website helpful, please consider a donation to the webmaster to help defray ongoing server hosting costs.

We Want You to Fly, Not Just Buy
this website created in consultation with
the late John A. Gorham and the Gorham Estate
You will need the free Adobe Reader
to view and print all GMP Documents

Connect with GMP on Facebook