By the early 1980's, the state of the radio controlled helicopter hobby had progressed to the point where advanced aerobatic maneuvers and aerobatic contest gatherings had become commonplace. The basic engineering and trial-and-error required to achieve reliable, controlled model helicopter flight had been tackled during the previous decade. During this second decade of R/C helicopter development, models were evolving to become much more sophisticated, offering much higher performance than was offered in previous years.
One of the leading manufacturers of this newer generation of advanced collective-pitch aerobatic helicopters during this era was Hirobo. In the late 1970's, The Japanese manufacturer began the selling the Falcon series of helicopters.
In the United States, John A. Gorham, the founder of Gorham Model Products (GMP), had been enjoying great commercial success both as an importer of Hirobo's line of Falcon-based scale helicopters, as well as with the popularity of his own Cricket helicopter.
The Cricket, however was a simple, fixed-pitch, beginner's model, and really an evolution of the early 1970's designs. While it was clear that there was a great demand for a simple "trainer" design such as the Cricket, the reality of the situation was that GMP did not produce its own high-performance, competition-bred machine. GMP had spent considerable time in early 1981 developing a collective pitch, Bell-Hiller upgrade for the Cricket, but the project was ultimately scrapped. GMP decided instead to design it's very own aerobatic helicopter, borrowing heavily on Hirobo Falcon parts and layout. According to GMP's promotional material, the Competitor was introduced in the summer of 1982, after nearly 18 months of development work.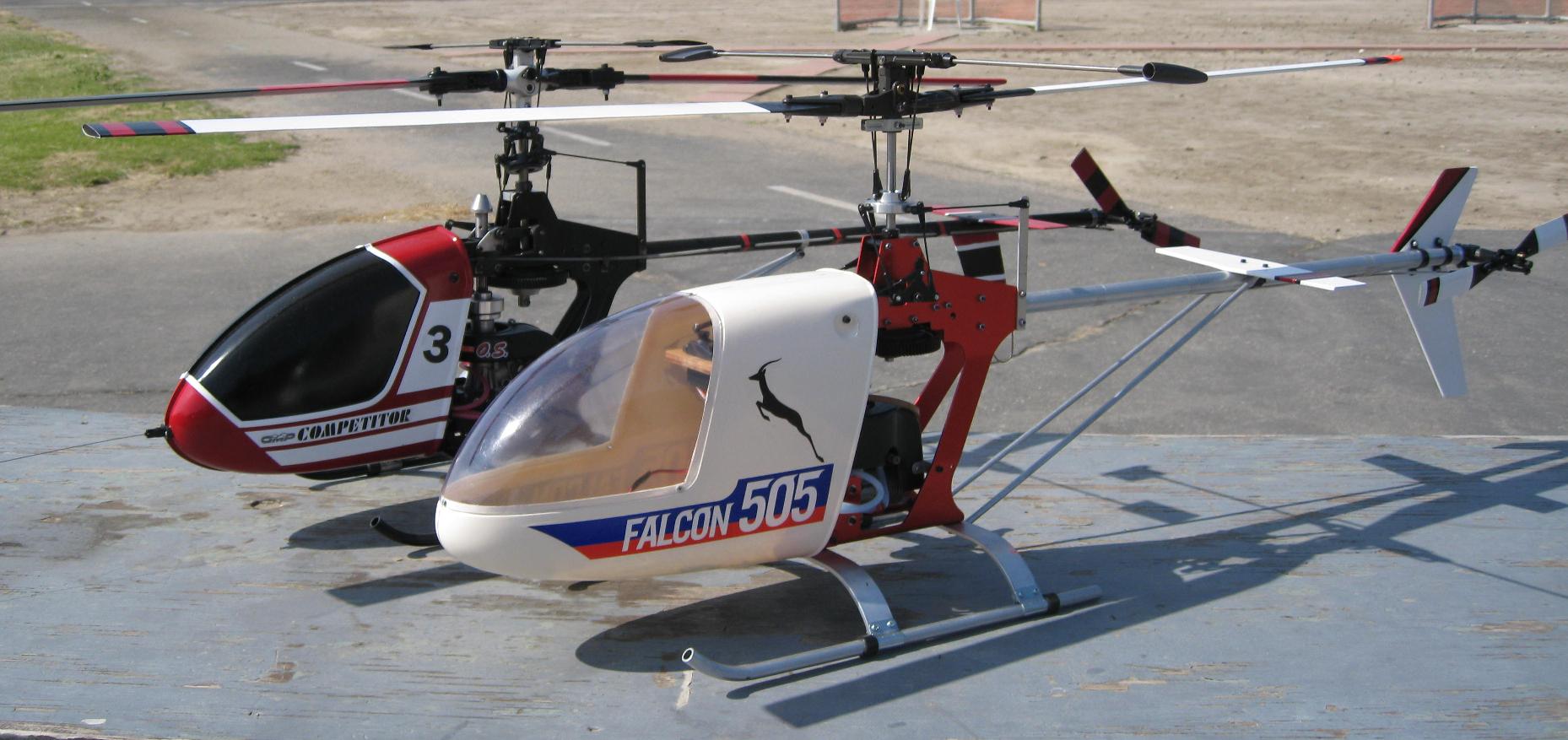 Family Resemblance - Hirobo Falcon 505 & GMP Competitor
At first glance, other than the canopy and tail fins, the Competitor looked just like the Falcon underneath. Even though the Competitor was comprised of perhaps 50% or more Hirobo parts, and was advertised as a combined "GMP / Hirobo development", there were a number of major differences between the Competitor and the Falcon. While the Competitor used Hirobo main and tail rotor systems as well as the Hirobo main and tail rotor control systems, GMP made their own aluminum side frames, landing gear, clutch, clutch bell, canopies, and servo mounts. The tail boom was shorter than the Falcon, and the rotor span was shorter. The clutch and bell were machined in Southern California and were very similar to the competing Schluter Heli-Boy (Hirobo's clutch was a three piece design and although it was finished better, did not function quite as well). Other modifications included the cone start on the GMP version, which necessitated going from a 9 tooth pinion to a 10 tooth one vs. the belt start, and shorter rotor blades which, combined with the steeper gear ration, gave higher RPM and snappier performance for the American market. Both the Falcon and the Competitor flew very well, although somewhat differently. The Competitor was hotter, the Falcon was slower and smoother.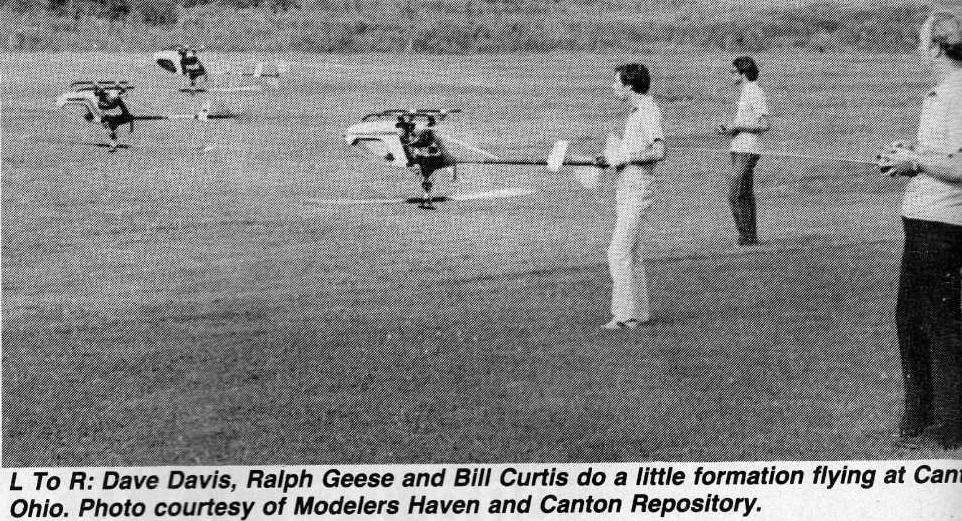 By the time the Competitor had been out three years it was winning every thing in sight. Towards the later 1980's, the Competitor was virtually unbeatable. Curtis Youngblood flew a Competitor to win the 1986 & 1987 U.S. National Championships and the World R/C Helicopter Championships.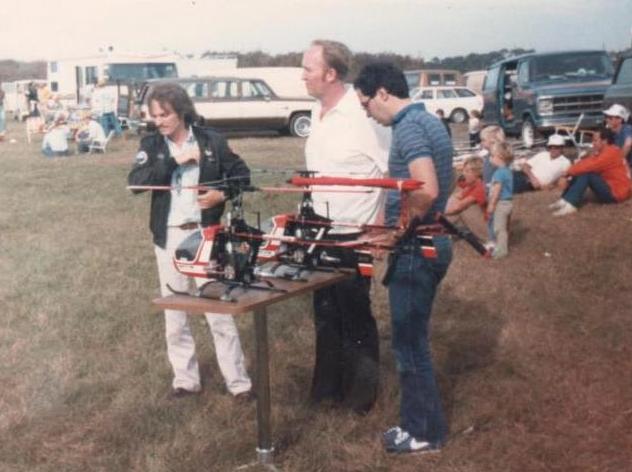 Early champion helicopter pilots (L>R) Robert Gorham (son of John A. Gorham),
Bill Curtis, and Ralph Geese at the 1982 Tangerine Nats in Orlando Florida
Photo by Dave Cosby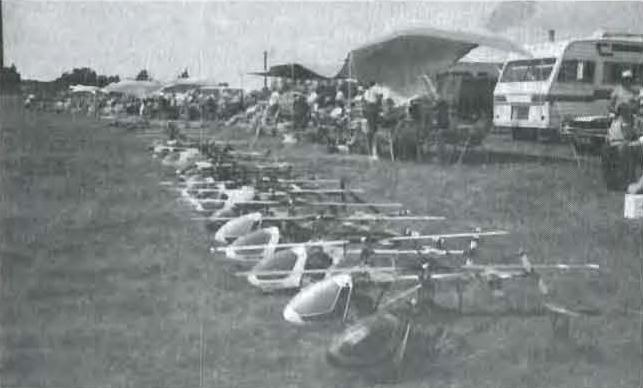 GMP Competitors at the 1984 U.S. National Championships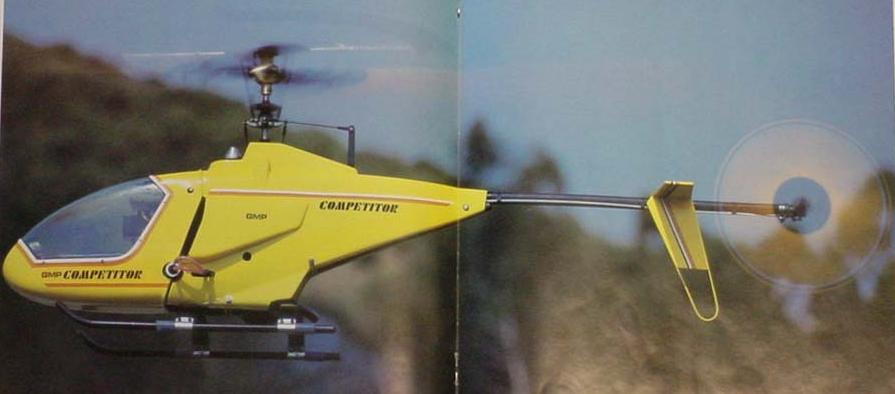 GMP produced optional rear side panels for the Competitor
There were several running changes made to the Competitor during its production run: 1. the original silver Hirobo-sourced swash plate gave way to the black "in-line" swashplate; 2. the starter cone got narrower; 3. the engine flywheel lost its vestigial Hirobo starter-belt groove; 4. the fan shroud was changed to a smaller and more efficient design; 5. reinforcement ridges were added to the main frame; and 6. GMP changed its company logotype.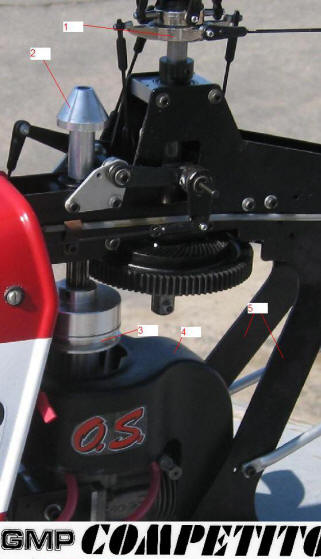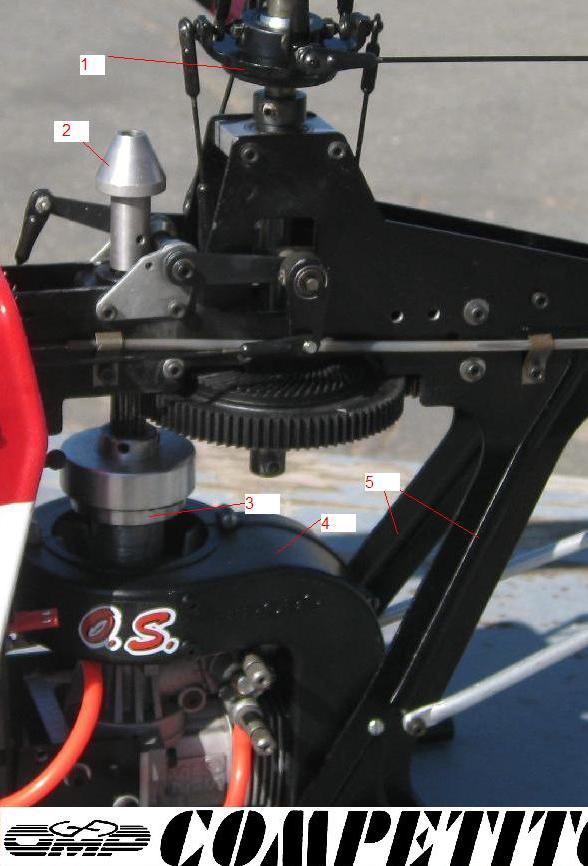 Comparison of original Competitor (L) and later production Competitor (R)
GMP went on to produce two other models which were further derivatives of the Competitor. The Cobra was essentially a slightly simpler and less expensive version of the Competitor, and the Legend was essentially a later, more advanced evolution of the Competitor, becoming the last "top of the line" fully aerobatic helicopter produced by the company.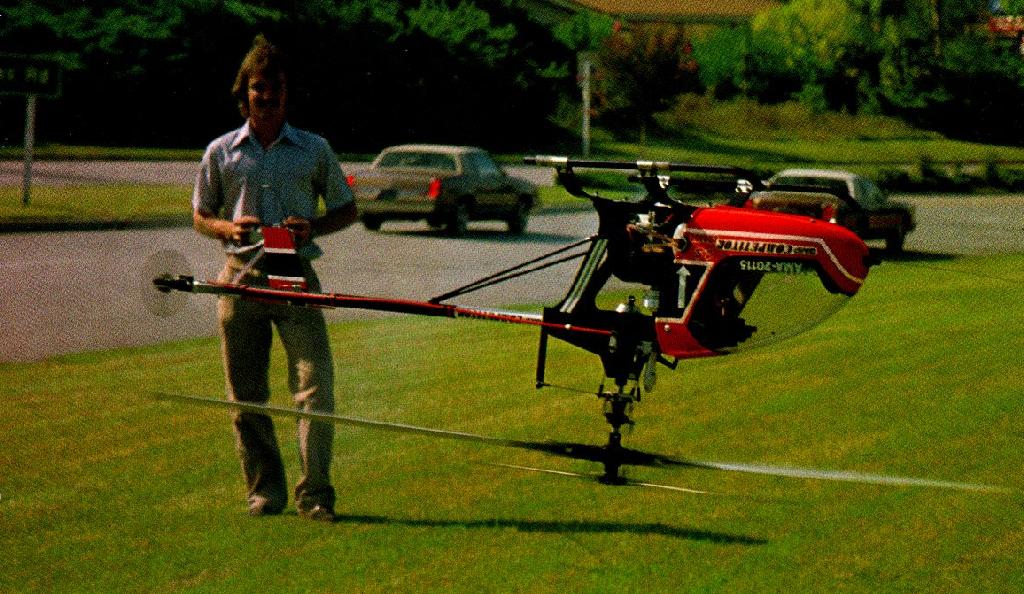 Robert shows how it's done
Vintage footage of the GMP Competitor in action! - hit play to watch
The Competitor's flight characteristics were great for its day and would still be considered decent even by today's high standards, and is actually still a great vintage project for the modern helicopter hobbyist to build and fly today!
our freshly built 25th anniversary GMP Competitor takes to the skies in 2007- hit play to watch
Much to the dismay of its many fans and customers, GMP suddenly and quite unexpectedly closed its doors in 1989, never to be heard of again. The company became embroiled in a major business dispute with Hirobo, which lead to the termination of GMP's Mitsui Bank business financing. It is unknown how many Competitors survive today, much less airworthy examples.
Building and Flying a GMP Competitor 25 Years Later
GMP introduced the Competitor in the summer of 1982. Its now the summer of 2007, exactly 25 years after the debut of this groundbreaking helicopter.
We had a great time restoring, building and flying a GMP Cricket some months ago, and were now looking for the next challenge! Unfortunately, this turned out to be much more of a challenge than we expected! Parts for these helis are much more difficult to come by, but with some patience, we were able locate and purchase a sizable lot of Competitor and Cobra parts all mixed together: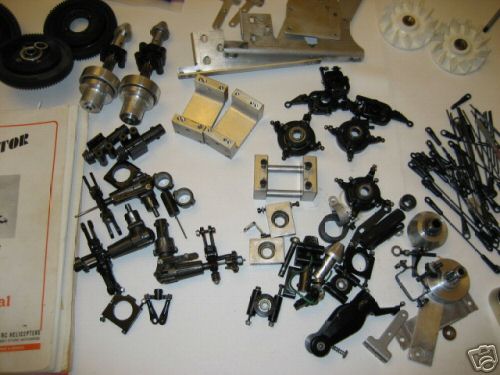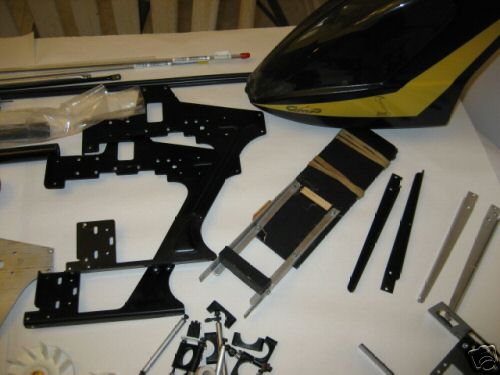 Bill, the seller, was as great guy, and was very interested in our plans to actually bring one of these birds to life. He explained that this lot of parts came from four different helicopters. The first set came from a fellow who traded his Cobra to Bill in exchange for Bill's Cricket in 1988! The second set of parts was from Bill's own Competitor that his dad bought him for Christmas in 1985, and the third and fourth sets came from the ceiling of the Hobby Hangar hobby shop in Virginia.
Next, we bought another lot of Competitor parts from James in Pearland, Texas. James had not only an original Competitor box, but several components still in their original sealed GMP parts bags! Included with this lot of parts was the un-filled customer registration card for GMP Competitor Kit # 2500. Since it was apparent by the card and the sealed components that likely this particular kit had never been build, we decided that our 25th anniversary GMP Competitor project would claim kit #2500 as it's "chassis number"!
Lastly, with the help of a few RunRyder Vintage Heli Forum members, such as cmourlas, GMPheli, kyleP, and jczankl, we were able to obtain all of the rest of the components we needed to build the complete 25th anniversary GMP Competitor # 2500!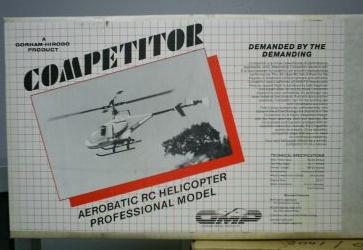 Radio gear: Keeping with the theme of our Cricket project (and our existing equipment), we decided to go with a modern radio system comprising of a Spektrum DSM radio, Futaba GY401 gyro with S9254 servo for the tail, and Futaba S9252 servos for the rest of the functions. Part of the reason for this is that we want to have a "fair" comparison of how this 25-year old helicopter flies against the modern designs of today, so it would only be fair to have the same quality gear (i.e. control response time, etc.) as available today. The other reason, quite frankly is safety. Modern, spread-spectrum radio gear provides a much more robust control link than traditional, single frequency modulated R/C systems.
Engine: The engine choice was not as easy as we thought it would be. Per the factory instruction manual, we could build the Competitor either as a a full sized .60 powered heli, or a slightly smaller .50 sized heli. The option would entail simply cutting down the main blades, tail blades, and tail boom to shorter lengths than specified for the .60 powered bird. Of course, we want a the full-blown, top of the line heli, the big .60 powered Competitor Professional, so it was quickly decided that would be the way we would build it!
I bought an older O.S. Max .61 SF "Blackhead" Helicopter engine, so named because of the black anodized aluminum cooling fins on the cylinder head. The plan was to mate this up to a nice, original Mac's Heloball muffler, which (although primitive by today's standards) was the absolute coolest helicopter muffler to have in 1982!
It quickly became apparent, however that this motor and the Heloball were not compatible. Although the Heloball was the proper .60 sized muffler that would have been the choice for this helicopter "back in the day", the mounting holes on the muffler did no line up with the mounting holes on the blackhead motor. The holes on the Heloball were 34mm apart, and the engine, 43mm apart! I made some inquiries and found out that an obsolete form of the O.S. Max .61 engine (even more obsolete than the "blackhead") would be needed for this project. Other than the mounting bolt issue, there is more to this story. As RR member GMPheli put it to me: All GMP's (that I know of anyway!) have an 8.6 to 1 ratio. This suits the OS 61 SF because it is a long stroke motor and makes its best power at lower rpm's. The FSR and 60X and most other 60 sized heli motors today are short stroke. The reason OS changed the SF was because people started putting them in machines that had higher gear ratios, and running them at higher rpm's. When you do this they vibrate a lot and break frames so they got a bad rap. My first Competitor had an FSR, and it had OK power. My current Competitor has an SF, and it has much more power, especially at the head speed I like to run, about 1650. If you run it up to about 2000 it will probably be OK. OS changed the SF to the SFN and made it a short stroke. Nowhere on the motor does it say SFN, and it actually uses the same crankcase as the SF. The only visual way to tell is the black head, and the head on the SFN is longer on the rear part of the motor, while the SF is the same on both sides.
So, we had an older short-stroke .61 that really was not suited to the "unique" (by today's standard's) gearing of the Competitor. We could either try to find a really old .61 FSR-H, or look for more modern options. We decided that since with all the modern electronics, we were essentially creating a "restomod" helicopter anyway, that we would go for a modern, more powerful engine, to give not only potentially better reliability, but more power and better performance than what was used 25 years ago. We chose O.S. Max's modern .60 sized helicopter engine, the 70 SZ-H Ring 3D Heli Engine.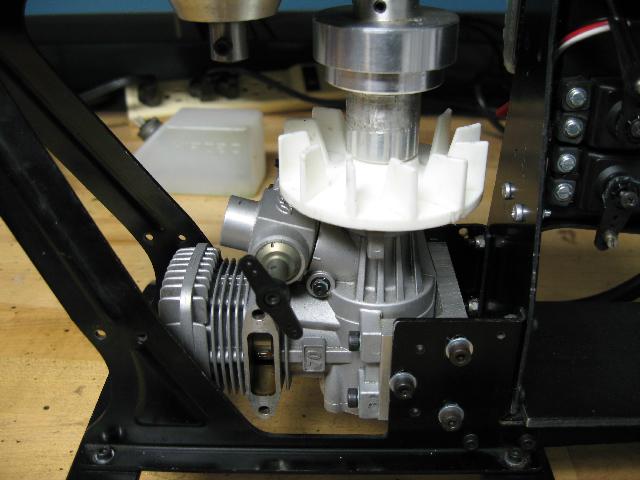 O.S. Max 70 SZ-H Ring 3D Heli Engine Test Fitting in GMP Competitor # 2500
This engine is designed to be a "drop-in" replacement for a standard .60 sized heli engine. With a slightly larger displacement, this engine makes about 2.5 HP, vs. the +/- 1.7 HP that the original FSR produced. It was indeed a drop-in fit except that the output shaft was of a significantly larger diameter than the old FSR, so we did have to machine the flywheel out slightly to accept it, and of course, like all modern engines in it's size class, it has 43mm exhaust bolt spacing, so it does not accept the vintage Heloball muffler....or does it!?
We really, really, really "had" to have that cool old retro Heliball muffler on this heli! Sure, we could have thrown on any number of modern 3D type mufflers, but that would not be true to the spirit of this project! So, we did the only logical thing we could do.....chop off the old 34mm mounting flange, and have an altogether new hand-fabricated aluminum mounting flange professionally welded on in it's place! That makes for a completely unique modern / vintage muffler: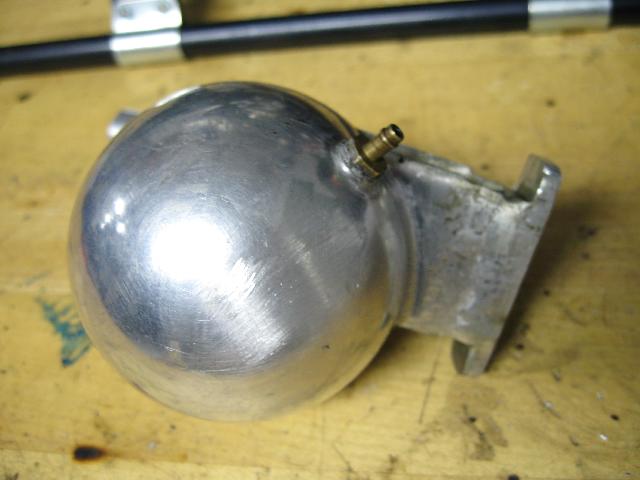 Here is a shot of the completed installation...vintage meets modern!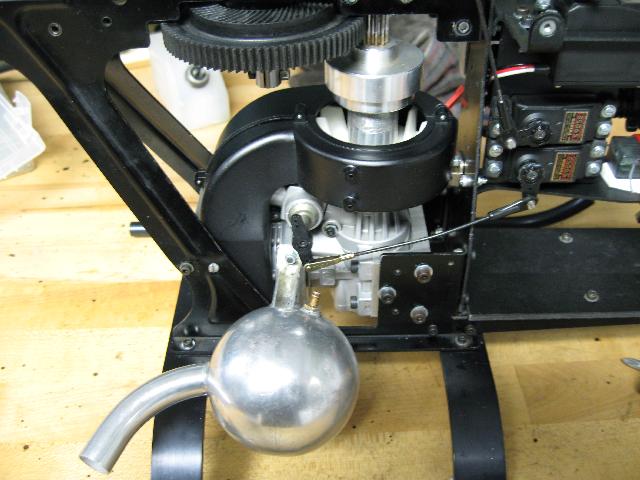 So, by today's standards, the Competitor has a very "tall" main gear ratio, but on the other hand, by today's standards, it has very short main rotor blades. The factory instruction manual calls for main rotor blades of approximately 600mm for the .60 powered Competitor. By today's standards, 600mm main blades are normally employed on .50 powered helis. So, essentially, it would seem that the Competitor was engineered for a slightly higher headspeed with shorter blades than its contemporaries.
Since the Competitor uses 600mm blades, this got us to thinking....why dont we just throw on a set of top of the line, modern fully symmetrical, carbon fiber main rotor blades? After all, we went with a modern helicopter radio, and a modern .70 sized heli engine. Well, we did some further research, and thought about this issue a bit more, and decided that we would draw the line at the radio and engine. We rationalized the radio decision based largely on safety concerns, and the engine decision due to the fact that the really old, more torquey long stroke.61's were no longer readily available, so a modern .70 would be the closest match. However, going with modern 3D blades was just "not right" and would be too much of a stretch to justify still being able to call this heli a "vintage machine". The original Hirobo / GMP blades for the Competitor were a beautiful, precision manufactured, semi-symmetrical design using hardwood for the leading edge, and lightweight balsa for the trailing edge: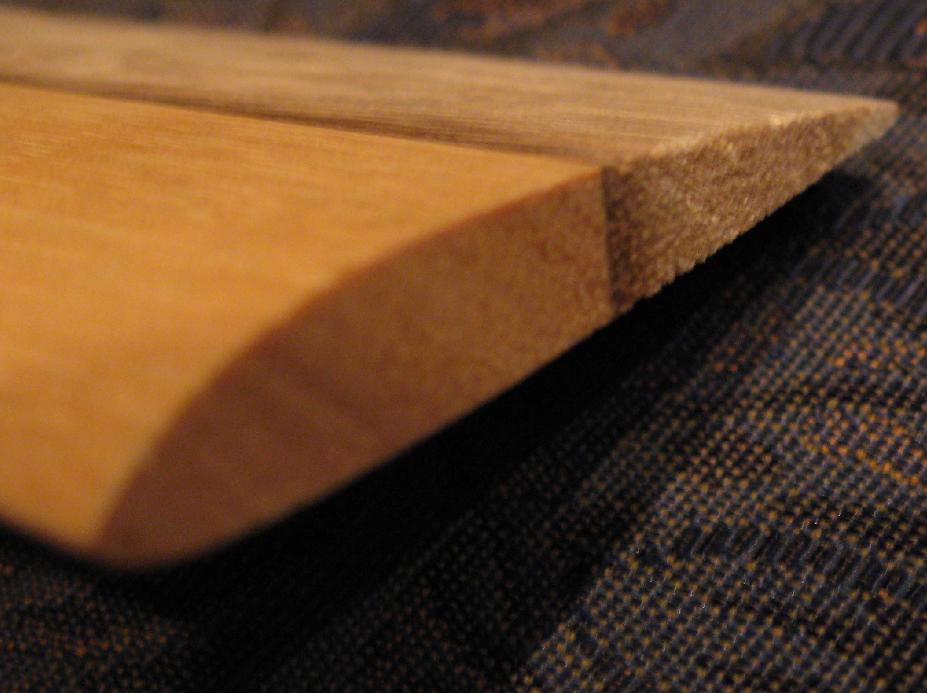 Unlike the Cricket, these blades were properly balanced chord-wise, and could be mounted (as they were) in fully articulating blade grips. Unlike today's fully-symmetrical 3D aerobatic blade designs, these blades had a flatter bottom than top, and were the same profile all through the length of the blade. They were quite a bit heavier than what we have today. No doubt a benefit for autorotations, but a detriment for all other maneuvers. What's more, we could only get about 8 degrees positive pitch and about 4 degrees negative pitch from the Competitor (we could have gotten slightly more negative, but the bottom of the swash would bind against the mast collar at full negative and extreme cyclic). This relatively limited collective range , combined with the semi-symmetrical airfoil meant that the inverted performance of this ship was nowhere near what is standard for today (compare to lighter, stronger fully-symmetrical blades and positive 10~15 degrees / negative 10~15 degrees collective pitch today). That, plus several reports of these wood blades breaking while doing inverted flying meant that we were not going to be taking any such chances with our Competitor. We knew that if we crashed this bird, there would be a good chance of not finding the proper replacement parts to get her back in the air!
The rest of the build went pretty smoothly with no other major issues to report, The factory instruction manual does a great job of walking you through the various steps. There were certain things in the manual we ignored, such as using silicone as a threadlocker (we used blue locktite instead), and balancing the main rotors as an assembly (we did a full two-way pivot balance instead). We decided, of course, to copy the early GMP factory team paint scheme for this project. We finally completed her after about three weeks of spare time. There is more involved here than in most modern helicopters, including working with wooden pieces for the tail and servo trays. We were lucky enough to get a brand-new unopened, 25 year old Tech Accessories upgraded aluminum servo tray assembly for this project!
In any case, it was off to the flying field to try them out. We also brought the 25th anniversary Cricket project for back-to-back flying comparisons:
25-year old, yet brand new GMP Cricket and Competitor
Flight performance compared to today's top competition helicopters: The Competitor is surprisingly both very stable and quite responsive on it's cyclic controls. So much so, that we had to dial around 70% expo for feel, which is about what we run on the Trex 600. The two biggest drawbacks in flight performance today are (1) lack of overall tail authority, and (2) relatively low power to weight ratio. We were actually warned about problem # 1 from some of the old-time helicopter pilots. The Competitor uses small tail rotor blades for the heli's overall size, and the speed of the tail rotor as expressed as a ratio to main rotor revolutions, is very low. Apparently, this was an issue back in the 1980's as well, because I was told that there was a "Speed-Up Kit" available to change the tail rotor gearing. If you watch the flight video below closely, you can tell there were a few times during certain maneuvers, where the tail would not come around smoothly. Issue # 2 may be related to the fact that we are still using a short stroke motor, while the Competitor likes more torque due to it's aggressive main rotor gearing (see above discussion). Then again, all you need to do is pick up the Competitor and feel how heavy it is with that thick aluminum frame and so many heavy duty machined parts...this thing is built like a tank! She will still jump up pretty quickly and respond to to increased throttle / collective very crisply, but she will not be winning any helicopter drag races against the modern high-performance aerobatic ships of today.
GMP Competitor and a then modern equivalent, the Flybarless Align Trex 600 Nitro
To put this all into better perspective, we decided that we would fly the Competitor back-to-back with a state of the art modern aerobatic helicopter. Arguably, one of the best performing aerobatic contest helicopters 25 years later was the Flybarless Align T-Rex 600 Nitro .50 sized helicopter. Our test pilot had one all ready to go with just about all possible upgrades, and using the same Spektrum DSM radio as in the Competitor. How apparent would 25 years of development be? Would the Competitor hold it's own against the modern designs of today? Just how far has the hobby come in the past quarter century? Despite her minor flight challenges, the Competitor is still lots of fun, and a very capable helicopter! We were impressed!
It has been a dream for me to finally do some real aerobatics with this helicopter. I had one back in the 1980's...here is the original: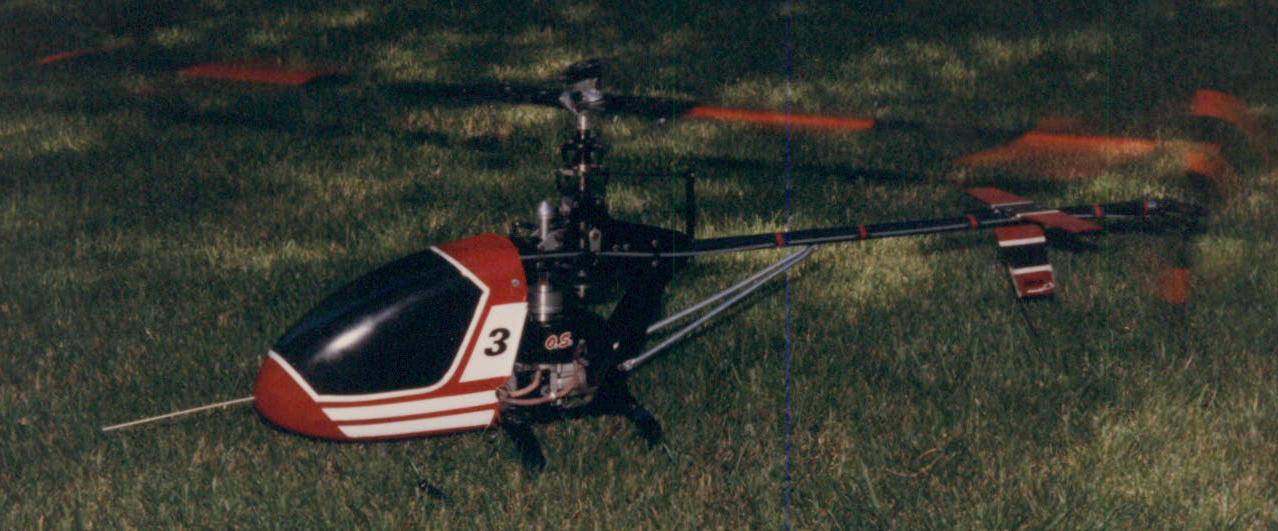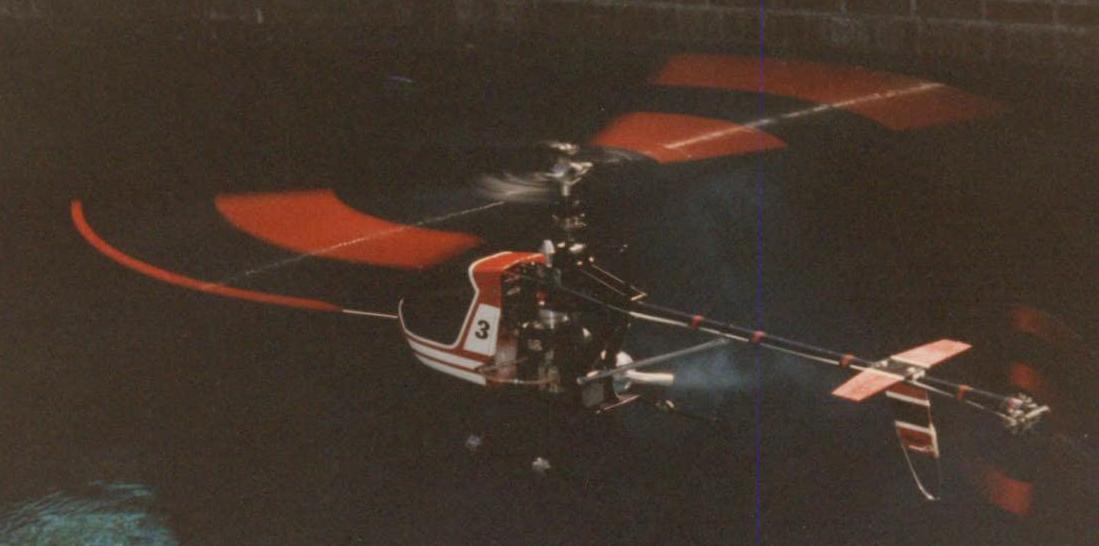 Back then, I crashed this thing over and over, and over again, and finally gave up!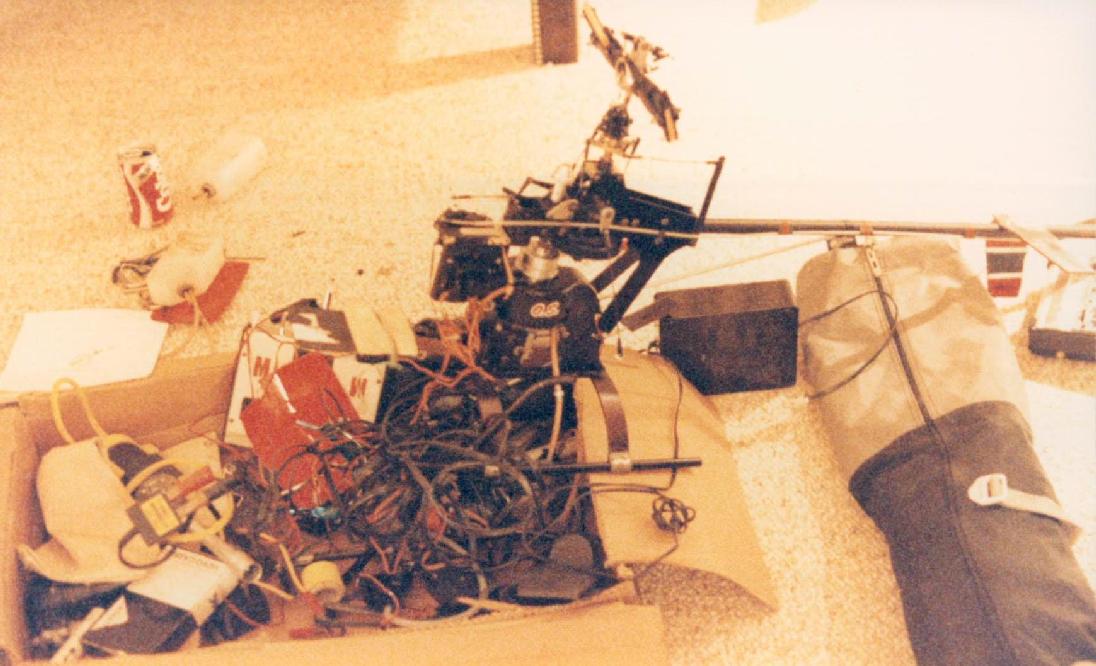 Today is a whole different story! We finally have the model perfected, and even better, a video to prove it!
Flying off into the sunset! :)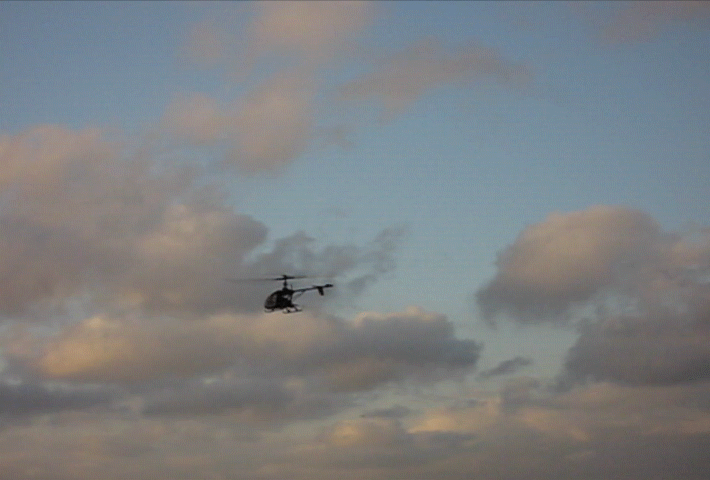 Even though the parts for this heli are super rare and hard to find, I think I'll still fly her every now and then. She is meant to be flown...I just wont take any huge risks trying any maneuvers Im not fully comfortable with! For now, she is all cleaned-up, in fully airworthy and ready to fly condition!
Keep them in the air! Until next time!

GMP Competitor Resources
Reproduction Canopies & Other Parts
Make Your Own Reproduction Canopy Stickers
GMP Generic Helicopter Sticker Sheet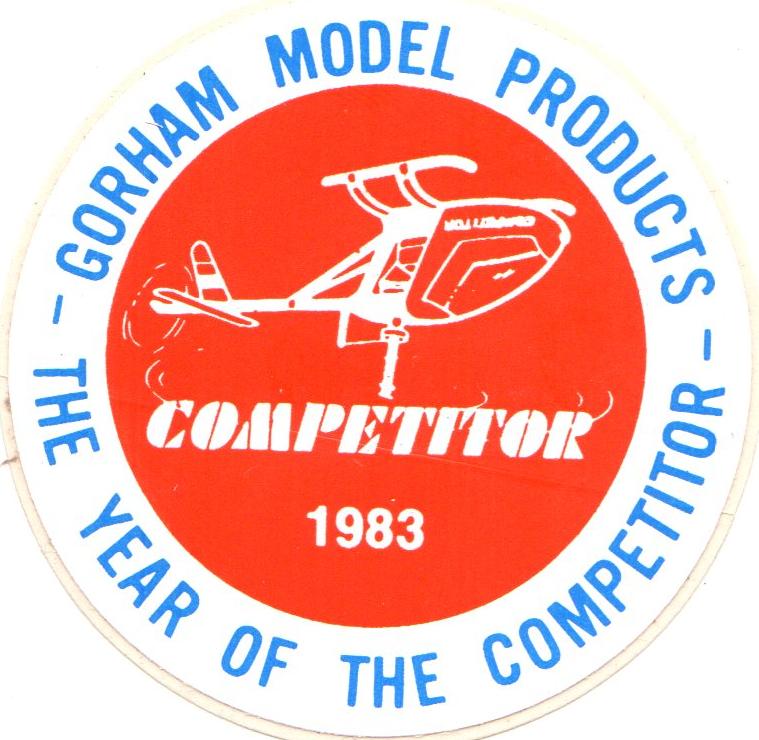 this website created in consultation with
the late John A. Gorham and the Gorham Estate
You will need the free Adobe Reader
to view and print all GMP Documents

Connect with GMP on Facebook