Dave Keats


Dave Keats Polecat
Design in 1973  and displayed in the 1974 Toledo show and particularly impressed John Burkam who commented;
Dave Keat's Polecat, as shown at Toledo, is the simplest helicopter I have seen.  It is intended for doing those manoeuvres you always wanted to try, but were afraid to.  There was a certain beauty in the gold anodised, square tube main keel, and the square tubular tail boom.  The prototype and the first production model, were both flown at the show.  Price announced for the ARF kit will be $250.00 and first deliveries will begin in late March.  Fox 25s powered the show models, rotor dia. was 41 inches and weight was 4 1/2 Lb.
For some reason this production failed to materialise and instead the model was offered as a build plan in RC Modeler August 74 issue.
Designed for home manufacturing requiring only basic workshop tools it was sized for the 19-25 size engines in order to keep it reasonable small and easy to operate.  One unique feature was the offset fin which helped stop the tendency for the helicopter to 'skid' sideways when in forward flight.  Dave had even looped the model though it was more like a figure 9 in actuality and the manoeuvre had to be started from high up ensure enough remaining height to 'pull out'.  It was also reported to be a little 'skittish' and so a softer teeter spring was used which made the model better for general flying but the softer cyclic response meant that it was then incapable of looping.
The Polecat was developed with collective pitch control for the head but these upgrades were never published due to a 'falling out' with Don Dewey as noted below.  Additionally a direct input head (Flybarless) was designed however, this proved to be too sensitive to fly and was not developed further.

Parts listing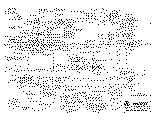 Full construction side view
Build Manual  -  AAM Magazine article courtesy of RunRyder member
As a footnote, a Polecat is on display in the A.M.A. museum in Muncie (as of circa 2010).
Dave Keats Bumble Bee
Dave had a second design based on the frame of the Dubro 505 designed by Dave Grey.  It was powered by a Fox .25 and this engine was fitted with the crankshaft pointing vertically down.  Primary drive was by a belt to the Curtis clutch with a different ratio to the polecat however, the 4:1 tail reduction drive was retained along with the tail gearbox and linkages.  The rotor head was also from the Polecat along with same size main and tail blades.  This design tended to get confused with Ed Sweeney's upgrade of the 505 but reports suggest this machine had better flying abilities.
At this time Don Dewey of RCM was in disagreement with the A.M.A. and this model was due to be published in a rival magazine however, it fell through because of law suit threats; Dave decided as it was all supposed to only be a hobby anyway to quietly move on....