RC Helicopter History - 1974
January 74
Selection of UK RC model shops.
Continuing the review of the Graupner Bell 212 Part Three - In-depth review of the design layout and final construction.


February 74
Not particularly good coverage though confirmation that Dieter Schlüter after splitting with Schuco-Hegi had started his own manufacturing concern 'Schlüter Modellbau' and the first 'new' release will be the semi-scale SA 341 Gazelle; basically a modified DS-22 fuselage and was available with the new collective pitch head as a purchase alternative.  Note that the term 'rigid rotor' still being used for a fixed pitch head showing the reviewer did not really know the subject.  Kavan bring out the first commercially available RC helicopter gyro and present the prototype Alouette II (to be introduction later in the year); noted for a 15 size engine.   Also a new name 'Rowan' brings out a Bolkow Bo105 though it looks identical to the 'old' WIK model which it should as Rowan & Klinger were the new distributors for WIK; a detail missed in the report.  However, to confuse things further the 'new' WIK Bolkow Bo105 appears to have a modified Schlüter head; not quite the same as an S version but does not look to be collective?  

 Toledo 1974.
Toledo show USA and mainly aeroplane coverage but noted is the new model from Dub-Ro called the Shark with fixed pitch control and designed for the OR petrol engine.  A home build model by Dave Keats called the Polecat which particularly impressed John Burkam.  Also the Kavan Alouette II was displayed in a pre-production form without radio equipment and full internal fittings; to be available later in the year but, note that at Toledo the reported engine was a 19 size.  However, even this was to be optimistic and showed that the helicopter was obviously not at the testing stage because it was to be another year before production was finalized and then with a 40 size engine.
April 74
Sywell and another good year for helicopters with the Morley 2C now revised for easier production as a 'basic' part kit and also for greater scale fidelity; MFA manufactured the plastic parts and this early connection was to result many years later in collaboration to develop a kit for MFA to market.
Also another first; a RC helicopter controlled from a full size whilst both are in flight; Ripmax display team and Dave Nieman who was one of UK's competent helicopter pilots.
First public display of the soon to be released UK RC helicopter by Micro-Mold called the Lark.
May 74
General proposal put forward to run US competitions along the lines of the German rules thus providing a proven format and also ensuring that any US competitor entering in European competitions would not be at a disadvantage.  Additionally Walt Scoonard had volunteered to direct the forthcoming Nationals using the rules of the recent Tangerine International RC helicopter championships.
Date and info for the Tangerine contest not available other than the two photo's above.
FAI record for distance set in the USA by Nate Rambo; full date and details not known but model looks to be own design with Schlüter mechanics.
June 74

Solarbo getting in on the helicopter scene by advertising that wood is NOT really used in helicopters; bit of reverse psychology but shows that focus was definitely on helicopter matters.
July 74
Another month for world record attempts firstly on land for duration and distance and then a channel crossing from England to France to celebrate Louis Bleriot's crossing from France to England in 1904.  All undertaken with a Graupner Bell 212 flown by Dieter Zeigler from the open door of a full size helicopter.  Shame the landing in France didn't quite work out too well but there is a saying "flying is easy, its the last six inches that's difficult".  The second duplicate flight by Dave Nieman with a modified Schlüter Cobra unfortunately failed due to what appeared to be a radio problem and it had a forced landing on the UK coast.
AMA Nationals in Lake Charles USA used the provisional rules developed by the newly formed AMA RCH Advisory Committee of which Horace Hagen was a member and he also came first in the Novice Class and third in the Scale Class.
August 74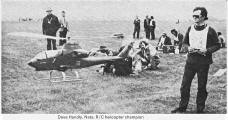 Winner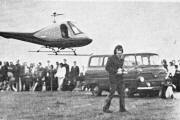 Second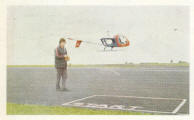 competitor with Dub-Ro Hughes.
First year in the UK Nationals and the reporter seemed to be somewhat bias against it, though the crowds appeared to have other ideas; shows how backward the UK press was regarding helicopters as many other countries, the USA for one holding their THIRD national competition this year.
Polecat - Finally after a long wait and a failed commercial venture?  Dave Keats OD home-build is presented as a plan in the US magazine RC Modeler.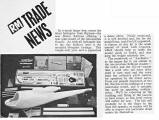 First UK report on the availability of the new Schlüter SA 341 Gazelle.
Flown in the Nationals to a lot of interest and finally about to become available as noted by the advert in August issue magazines which would have been out a few weeks before the Nationals took place.  Finally, a UK manufactured full kit that combined both traditional modelling with a balsa/plastic body and pod with helicopter engineering for gearing, head and tail assemblies.
September 74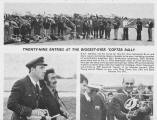 First year for a UK fly-in at RAF Odiham and a good selection of models, mainly kits but looks like there could be a couple of OD's in there.  Peter Valentines 0.49 Cox variation of the Mayfly and Dave Nieman's name crops up again giving good helicopter PR.
November 74


Not quite the same as across the channel but take it from me, flying over water really does get the heart beating faster.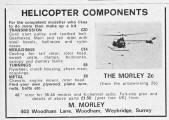 First advert for Morley 2C components and plan.
December 74

Noise regulations finally to be enforced in the world championships with subsequent knock-on effect to modelling around the world.
Dates to confirm for 74
USA National Model Airplane Championships - Kavan JetRanger took 1st, 2nd and 3rd places.
Kalt latest models the Hughes 500 for flatbed mechanics and also their 'Flying Box' trainer fuselage; the idea being you learnt with the basic 'box' machine then transferred the mechanics into the Hughes shell when you progressed.
Introduced in 1974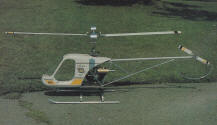 Dub-Ro Shark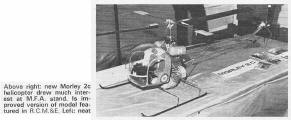 Morley 2C (Bell 47)  
Dave Keats Polecat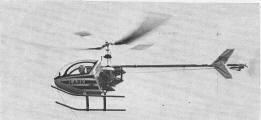 Micro Mold Lark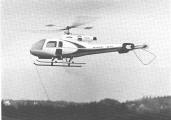 Schlüter SA 341 Gazelle  
Kalt Hughes 500D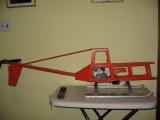 Flying Box
Overview 74
UK finally got got in 'on the kit act' with Micro Mold introducing the Lark and Jim Morley bringing out a proper builder plan pack for his redesigned 2C Bell 47G.  Kavan introduced the first gyro (Mechanical) for RC helicopters which required to be 'wired' into the servo feedback pot.  First reported instance of an RC helicopter being flown from a full size helicopter followed by later in the year a cross-channel flight with a Graupner Bell 212.  Many fly-in and National competitions now regular and popular events.