Heim ( Ewald Heim )
In the 70' ies Ewald Heim had a cooperation with Kavan. He also was a contact person for service questions regarding Kavan.
In 1978 he started marketing his own helicopters. A few guess he duplicated many parts from Kavan. But nobody can demand
that somebody clears his brain when he terminates his agreement.
The only commonalities in my opinion are the lay-out of the fan and the property that the mechanic wasn't an effective element.
The feature of the Heim mechanic is its compactness and that all parts are made of plastic if possible. But it allways needed
a fuselage to mount  tank, cooling duct, servos, tailrotor ,..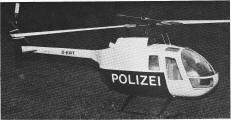 1982 advert by UK importers Watford Model centre.
Bolkow 105 model was introduced in 1982 using the 'WIK' fuselage with Star Ranger mechanics.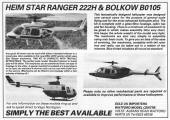 Advert from Watford models UK with the Bolkow Bo105.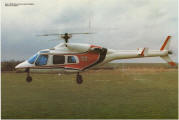 Heim Bell_222H of Vago Nordigian plus review  by JG Swan from Radio Controlled helicopters.    

Dec 1985 advert from World Helicopters USA.
1986 Graupner take over production of Heim helicopters.##########################################################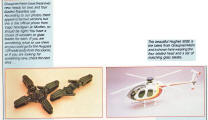 1989 Hughes 500
Heim Hints - 1989 Courtesy model helicopter World
Bell_222 - Scale with retracts - 60 size,
Star-Trainer
Wooden Trainer - Star trainer mechanics

Lockheed 286H - Semi-scale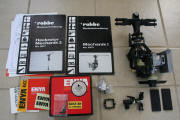 Heim mechanics
Hein Bell 230 Build instruction - Multi-language.