Graupner

Graupner like Ripmax of the UK was primarily a distributor of modelling goods but did market a small amount of 'own brand' goods.  In the late 60's they were actively involved in promoting the 'race' to produce a Radio Controlled Helicopter and though Dieter Schlüter won this race, a number of other builder developers were very active.  One of these was H Demuth and unlike Dieter, who produced the simple fixed pitch Hiller head, he developed a more complicated collective pitch design.  In collaboration with HB engines (Helmut Bernard Engineering Works) he developed a scale model of the Bell 212 which was then taken under the Graupner 'wing' for final production and marketing in 1973.  This model turned out to be the better handling machine of the initial German group of three helicopters (Schlüter Cobra, Kavan JetRanger, Graupner Bell 212) primarily due to a longer develop period and the experiences of the others being utilised to good effect.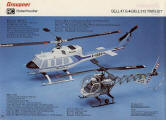 Bell 212 and 47G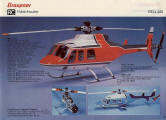 Bell_222 and bell Trainer
Following on from this the next model in 1975 was unique at the time in that it was basically a 'Super Airfix' kit which resulted in a good rendition of the Bell 47G.  The original Bell 212 rotor head had the drawback of limited pitch range but proved to have very good control characteristics and so it was developed further into what was later to be termed as 'flybarless'.  The revised mechanics followed the trend for the time in being pod and boom format and in 1979 was available with either a full scale Bell_222 fuselage or with a 'semi-scale' Bell 212 body for training / general flying purposes; this latter being known as the Bell Trainer.
Graupner Lockheed 286 UNI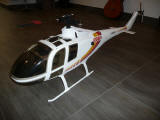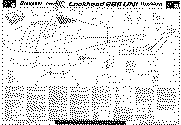 construction side view.


Full size specifications
Graupner Hughes 500E (Year TBC)
Utilised Helimax mechanics however no info held at this time.
Graupner Playboy (Ishimasa)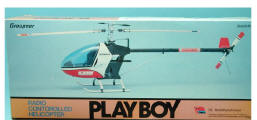 The Ishimasa Playboy was also marketed under the Graupner name in Germany; introduction year TBC.
Graupner-Heim
In 1986 (TBC) Graupner took over distribution of the Heim range of scale models and mechanics under the combined name.
Graupner StarRanger (1986 TBC)
Heim Star Ranger now made by Graupner
Graupner-Heim Trainer E build manual -
Graupner-Heim Uni mechanics 40 -
Graupner-Heim Uni-Expert mechanics 02 onwards -
Graupner MH-10 (Hirobo)
The Hirobo MH-10 along with the Bolkow fuselage version was also marketed under the Graupner name in Germany with the only changes being the Decals; introduction year TBC.
Graupner Unistar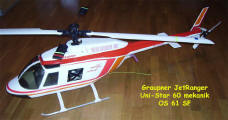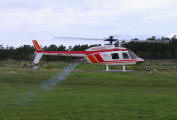 2008 model with Unistar mechanics.