RC Helicopter History - 1973
January 73

First UK review of the Schuco-Hegi Schlüter Cobra.
Helicopters had not been reviewed before (in the UK) and so this is a very comprehensive review.  Full technical description is given along with a comprehensive overview of all aspects of the build including techniques; so much so that it is better in many places than the supplied building instructions.
February 73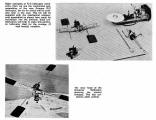 Nürnberg 1973.  

UK magazine cover with Dieter and DS-22.
Germany at the Nürnberg Toy fair, Graupner displayed their entry into the world of RC helicopters, a scale Bell 212 with a rotor diameter of 63 inches (old money....) and for the HB-61 engine that has been specially modified for helicopter use and is provided with the kit; flight displayed but still under final development with delivery date not confirmed.  Comment of 'Tilting head'?  Probably meant collective pitch as this model was the first to be marketed with this control system as standard.  Kavan again showed the production JetRanger on the Simprop stand, and though delivery was supposed to have commenced late in 1972, production delays meant that it was only just due to be marketed.  Schuco-Hegi also displayed and demonstrated the soon to be released Schlüter DS-22 based on the Enstrom F-28; utilised the 'Cobra' mechanics but was easier to work on due to the large open fuselage.  Comment says it had autorotation? however, it was probable the reporter misunderstanding (as per the tilting head comment) the 'normal' clutch fitting because we all know fixed pitch will not auto......
Cupi-Model Technik displayed again with their Cupi-H1 being the development of their original model displayed at the 1972 show.  Now with a two blade head and 'Bell' stabilization for the basic format however, as can be seen by the mechanics shot, a multi-blade head was also available.  Interesting shot of the multi-blade head as the collective linkage can be seen operating some form of linkage near the head of the rotor and the cyclic servo's appear near the base but how the swash is arranged is not too obvious.  No mention made of their Bell 47 displayed at the last show which seemed to be the more developed of the two; Cupi then seemed to disappear without further trace.
March 73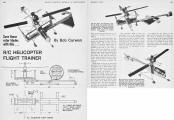 Training aid.
It was bound to happen; a training aid for helicopters and presented in the March edition of RCM&E.  Additionally, another interesting home build based on the Dub-Ro Whirlybird but with a silenced Merco 61; must have been a little bigger though.  No further info held on this helicopter or modeller.

General article on use of collective pitch and main rotor stabilising gyro's.
Interesting article by John Burkam concerning use of gyro's for cyclic stabilisation; many years to a reality though and indicative of John's almost obsession with making RC helicopters exact replica's (Froude scaling anyway) including main rotors.
April 73
UK Kempton Park April 7-8, very poor helicopter report coverage on this one however, Mick Charles was there and as you can see he was advertising Schuco-Hegi, Kavan, Graupner and Dub-Ro helicopters plus if you bought from him he offered a test flying and instruction service.
Sywell 73 held over the Easter weekend was the venue for the first UK helicopter competition.  The UK had lagged behind the rest of the world regarding development of RC helicopters with the model manufacturing fraternity showing a distinct lack of enthusiasm.  To counter this the UK magazine RCM&E a few months earlier had contacted Dieter Schlüter and invited him to come up with the rules for a UK venue which they would sponsor; this he did as noted above.  Not too many entered, which was not unexpected being the first venue of its kind in the UK and the weather was poor so no 'home build' designer risked his model for the flying aspects.  As can be seen the result (based on the static display only) was a first place for Jim Morley with his Bell 47, second place to Peter Valentine with his Lark and third place to Arthur Ambrose.  Of note is that John Drake's model UH-12E was also at the show and in full flying format but unfortunately did not appear in the results.

A special award was made to Ken Sinfield for his contra-rotating design helicopter which was NOT the 'Free-flight' layout but a fully functional twin rotor machine that was already flight proven.  Studying the photo's would suggest a Bell stabilized free floating upper rotor with cyclic controls on the lower rotor.  Fixed pitch with throttle control for lift and what appears to be 'vane' steering and whilst flight control was stated to be 'simple' later models and reviews of vane control showed it to be marginal at best and generally lacking a 'positive' action.
Manfred Kufner displays the Graupner Bell 212 at Sywell.
May 73
Finally, both the Kavan JetRanger and the Graupner Bell 212 were available as noted by the UK magazine articles above.
June 73

Dub-Ro Hughes 300
Introduction of the Hughes 300 however, the Ohlsson and Rice 21cc engine (petrol converted to Glow) proved to be unreliable and flight performance was marginal due to it being very heavy (14 pounds !!!).
First UK review of the Dub-Ro Whirlybird 505 by Stephen Winkworth. 
July 73
First Italian 'international' competition; unfortunately lack of notice prevented it being truly international with only 'nearby' countries able to attend.  There were a number of own designs plus  a very impressive home design Chinook.  The control system appears to be fixed pitch with flybar front rotor and collective pitch without flybar rear rotor thus indicating that height control was effected by altering the engine/rotor speed and cyclic by altering the pitch of the rear blades.  With a weight of 15Kg and only an OS80, lift was marginal, unfortunately last page of the report is missing so flight appears to have been attempted but...........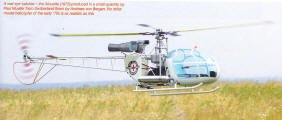 Alouette II by Paul Mueller of Switzerland. and a very high quality scale model with limited production as all kits were hand machined.  Photo from a much later vintage helicopter event and no real info held on this machine.
Second RC helicopter USA Nationals in August 1973 and attracted over 20 entries - Report here (incomplete).  The contest had to be downgraded due to a lack of qualified judges which in hindsight would have been fairly obvious because Judges are normally past winners / high ranking competitors however, in helicopter events there were still only current competitors / beginners.   Interesting home design CH-21C including an OS Wankel engine however, even after years of developing the model, the radio had not been fitted and the pilot had not even learnt to fly helicopters........!!!!!!!

  Radio Modeller build review by Roy Yates of the Kavan JetRanger  -  Part 1 Build review  -  Part 2 build review  -  Part 3 flying review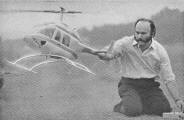 August 73
First adverts for Dieter's second model the DS-22; mind you, poor advert as its has all the details for the Cobra but with a DS-22 photo, doh.................     
September 73
Another world record claim on distance and this time by Volker Bitterer at Mainz West Germany for a closed circuit distance of 50K 88m (35 miles).
October 73
Morley 2B (Bell 47)
Introduced earlier as a plan in RCM&E and now available as a Plan/Pack; required workshop facilities and engineering know how.
November 73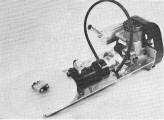 First review of the Graupner Bell 212 by Jack Barnard, Part one - General overview.
December 73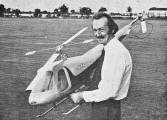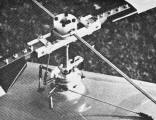 First UK review of the Schlüter DS-22.
Continuing the review of the Graupner Bell 212, Part two - Build begins.
A couple of unusual items, trade news report of flying inside a Cobra; first ever indoor flying event????  Secondly Emerson Fittipaldi and his ability to fly a Cobra within a few minutes ---b*st*rd, it took me years........
Not for sale as such but the advert from the UK's RCM&E magazine showed that at least one Dub-Ro Hughes 300 had made it across to the UK before December 73 and probably through Mick Charles (Apr 73 advert).
Interesting advert as out of nowhere appears a new RC helicopter manufacturer WIK, appeared with a fully functioning and flight proven model.  It turned out to employ Schlüter mechanics though not quite made under license and with a little bit of controversy.
Conversion of the Dub-Ro whirlybird by Ed Sweeny (USA).  Standard single rotor helicopter layout with build article and plans reproduced in Decembers American Aircraft Modeler.
Introduced in 1973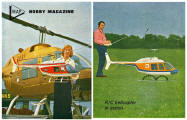 Kavan JetRanger  

Dub-Ro Hughes 300  
Graupner Bell 212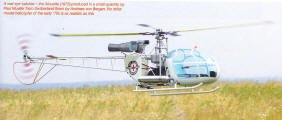 Paul Mueller Alouette II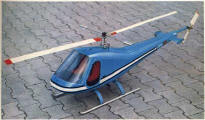 Schuco-Hegi DS-22  
WIK Bolkow Bo105  
Ed Sweeney Superbird  #  Kalt Fairchild FH1100 
Morley 2B (Bell 47)
Overview 73
Towards the end of 1973 Schuco-Hegi had financial difficulties and so their interest in continuing production of RC helicopters waned to such an extent that they and Dieter parted ways thus forcing Dieter to look towards to starting up his own manufacturing and distribution business.  This was also coupled with another build partner deciding to go it 'on his own' using mechanics his company had manufactured that should have been delivered to Schuco-Hegi.  On the plus side, 1973 saw the introduction of RC helicopters by nine manufacturers / designers with Switzerland being the next country to join the RC helicopter club.  Helicopter competitions were now beginning to take off with many being held for a 'second' year running and an increasing number of clubs having helicopter events.  The Kavan JetRanger had emerged as the one to beat, winning many competitions and most of the runner up places as well.