Dave Nieman (UK)


A very well known name in the UK Radio Controlled Helicopters and was around right from the start first mention I have is from 1974.  He is noted as part of the UK's RIPMAX display team and thus would have been able to get one of the first batch of helicopters available in the UK.  I have met Dave at his house a few years ago but unfortunately did not have the time to talk; really must try and get to see him again...... 
1974

Also another first; a RC helicopter controlled from a full size whilst both are in flight; Ripmax display team and Dave Nieman who was one of UK's most competent helicopter pilots.


Dave and modified Schlüter Cobra. 
The second cross channel flight attempted in 1974 and this time by Dave Nieman with a modified Schlüter Cobra, unfortunately the attempt failed due to what appeared to be a radio problem with the model helicopter having a forced landing on the UK coast.
1976
Dave Nieman Beginners Part 1 - Dave Nieman was now very well known and respected in Helicopter circles started the first of his articles in RCM&E on beginning in helicopters.  Part one covering availability and selection of a suitable model, building, checking and flight box requirements.
Dave Nieman Beginners Part 2 - Continuing with Dave's articles on helicopters for beginners.  Part 2 covering flying field checks and preparations for flying then the adjustments required for those first 'hops' in order to set up the machine.
Following on from his first two articles, Dave then began a regular' (though not yet a monthly feature) column in the UK magazine RCM&E to provide general information for helicopter flyers.
JetRanger - Schlüter (1976)
JetRanger designed by the UK expert Dave Nieman (display pilot for RIPMAX the UK Schlüter importers) with plan marketed through RCM&E and designed to take Schlüter flatbed mechanics and early fixed pitch 'teetering' head.  It was not recommended to use the 'flapping' head as close proximity to the tail boom resulted in blade strikes when large back cyclic commands were used on approach; inference being in the report that Dave had actually chopped the boom off in trials............
JetRanger build  -  Jul 76 Magazine article covering all build aspects and flying report.
Not 100% certain and the article does not make a comment of manufacture but the body looks remarkably like a Kavan JetRanger, especially in the photo's below.
1977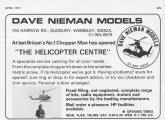 Dave Nieman models. 
Dave decides to open his new helicopter centre and not one for modesty in his claims, sets himself high standards to achieve.
1978

Noted in the "second hand" area of the Dave Nieman advert a Hirobo Gazelle though no mention of any other of the Hirobo range which had grown at this point to quite a few models; however the make was to become more prominent to Dave's business in the near future.
Agusta 109 (1978)
A Dave Nieman scale fuselage kit on sale at Sandown; most mechanics of the time for 60 engines would fit as most of them were roughly the same size and it also included retracting undercarriage.  Unfortunately, this is the only indication of this model I can find and no other details held.
1979
Dave had been to Japan and been impressed with the Hirobo range of helicopters with the result that he became the UK importer for the full range of Hirobo helicopters.
1980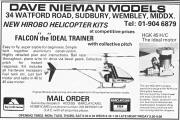 Hirobo Falcon Mk1 advert with the helicopter specific HGK 45 engine.
To promote the Hirobo range Dave took their top of the range 5th scale Lama to Sandown.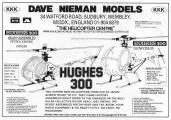 Adverts May 1983 for both the Hirobo range and KKK.


1983, Dave Nieman King size JetRanger based on Hirobo mechanics with modified gear ratios and 'Flymo' engine.

1983, Dave and KKK Robinson R22 HP, even with tens years flying experience and the model the best Flybarless at the time; it was still not easy. 
Dave Nieman  -  Profile interview from Dec 1983 Radio Control Helicopters.