EF Helicopters
EF Shogun 400 (2004)
Although marketed by an American company it was actually produced by Gaui (before they started marketing under their own name); see Protech Zoom 400 for description.
EF Shogun V2 (2005)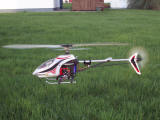 A development of the original 400 and shared quite a few of parts though the body was of a much larger design and utilised a belt drive instead of the earlier models shaft driven tail.  Though marketed as a 400, it was probably the first of the up and coming 425's and due to being heavier it flew much better outdoors and was not quite so affected by wind or gusts as the lighter 400 model.
It was not as manoeuvrable as the T-rex 450 with the head layout more suited for straight line flight though it could roll and loop very well with full inverted capability.  Standard blades were also too light for reliable auto-rotation and it required the fitting of a set of heavier CF blades like SAB's to be effective.  Rear mounted tail servo ensured firm control of rotation and also along with the larger canopy meant that 2000 mAh size batteries could be used which gave a reasonable endurance
Shogun build manual  -  2005 versionv
Bought whilst I was still at the 'figure of eight' stage to 'complement' my Zoom i.e. if one was damaged because of an Oops, the other would be used and Visa-Versa; in the end it turned out to be the first helicopter that I actually completed proper 'planned' circuits with.  I had experienced an occasional fly-away with the Zoom which would result in much panic and over controlling until a reasonable hover could be achieved, followed by a semi-controlled landing. The Shogun though had a little bit more stability (i.e. heavier) and as I had achieved figure of eights then circuits seemed the obvious next step; only problem was speed control as it was easy to speed up but much harder to slow it down again.
Eventually was 'bumped' too many times and needed a full overhaul so it was put 'on the shelf' where it still is today.