Specification:


| | |
| --- | --- |
|  Length |  1450 mm |
|  Width  |   mm |
|  Height  |   mm |
|  Rotor Head |  CP |
|  Main Rotor Dia |  1580 mm |
|  Engine |  .60 cu in  (10.0cc) |
|  Gear Ratio |  9:1 |
|  Weight |  4500 - 4800 g  |

 

Documents: 


exploded view

 

 
    
Reports:
 
  
 
 
​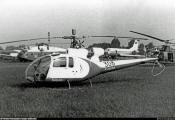 Prototype full size Gazelle.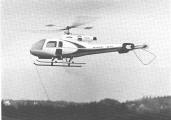 model hovering.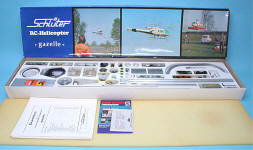 Boxed kit.
Third 'kit' model designed by Dieter and whilst production was underway Schuco-Hegi pulled out of the partnership and thus the Gazelle was the first 'new' kit produced by the newly formed 'Schlüter Modellbau' and presented at Nürnberg in Feb 1974.  

1975
Developed early 1973 and eventually marketed in 1974 it was basically very similar to the DS-22 including the tail area which meant that it was based upon the prototype Gazelle and not the production model (unlike the Hirobo Gazelle brought out in 1976 which had a fully functioning Fenestrom fan).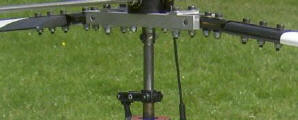 Flapping 'S' head early version.
First version of the Gazelle like the two previous Schlüter models was brought out as a fixed pitch model and as per the DS-22 had the 'S' rotor head.
Note that construction of the gazelle is very similar to the DS-22 having the same mechanics and general layout and so the DS-22 build manual can be used in conjunction with the above documentation which has both 'Fixed pitch' and 'Expert head' details which was available after the models introduction in 1974 as an upgrade.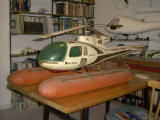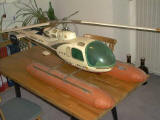 Flapping head with full details on the Cobra-de web site.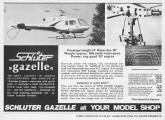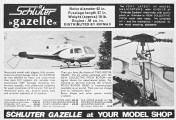 Catalogue description (Swedish) 
Initially the model was supplied with a fixed pitch basic rotor head with the new 'Expert' collective pitch head available as an upgrade however, in 1975 this was changed to be the 'standard' supplied head with the fixed pitch head as the alternative.  This marked a change in direction for Schlüter with the focus for scale models moving to collective pitch as standard which was brought about by the introduction of the Heli-Baby; this model being much more suitable model to learn with before moving up to models like the Gazelle.
Not sure on the popularity of this model as I have not found any reviews of the time covering it however, as it was basically a slightly modified DS-22 I suspect that all the comments regarding the DS-22 would be equally valid for the Gazelle.
Site run by Uwe Jantzen covering the Gazelle - www.schluetercobra.de