Harsewinkel 1970 and Dieter Schlüter with his semi-scale Bell Huey Cobra presented to the world the first successful Radio Controlled Model Helicopter and following this initial outing he them set world records for both duration and distance.  Prototype Cobra - Technical description in Dieters own words of his model Cobra taken at the time of the world record.
Dieter was inundated with best wishes and invitations to display the helicopter flying plus he also received many requests for details or better yet finished mechanical components.  The original Cobra mechanics were not really suited to mass production and the gearbox overheating problem could not be solved in production by adding the complication of a pump and cooling tank as per the prototype for the duration record.  The gearbox was completely redesigned to be of the spur gear / bevel arrangement (3:1 tail rotor and 9:1 main rotor reduction) which was significantly more efficient and as such would not overheat, especially as the housing was a hand made aluminium casing which would radiate any heat generated.  The rotor head also required redesigning for a simpler production method and would not incorporate the swivel.  All parts were produced in dieters workshop and it became a full family affair which took over the whole house.  The original kits came out late in 1970 but as Dieter still had his daytime job it quickly became apparent he needed a partner.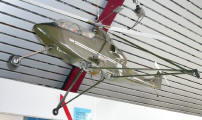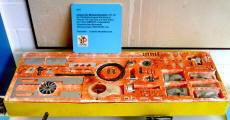 Original hand built helicopter and mechanics.
Schuco-Hegi Cobra (1971)
Later into 1971 he teamed up with the firm of Schuco-Hegi who made the fuselage kits and the mechanics were being made under his supervision in his own works and also in asscociation with the firm Prazisions-werkzeugbau in Bergen Bavaria; approximately 300 of the initial version were made and it is noted that the first 50 kits were actually numbered on the gearbox.  Following this production run and at the 1972 Nürnberg Toy Fair Schuco-Hegi presented the Cobra in its 'mass production' format.
The mass produced models have a number of differences to original Schlüter models, changes in the bodywork for one but the major difference was to replace the original aluminium gearbox case with one made of plastic.  Whilst significantly cheaper and quicker it did prove to be a weak point in the transmission and was not fully oil tight such that it had to be checked and topped up prior to each flying session.  Another revision was the rotor head and the design was changed for easier production without the 'tether' hook.
The Cobra was also produced with a fixed pitch head even though a basic design for a collective pitch head had already been developed.  This was a conscious decision by Dieter as he appreciated it was going to be difficult for the first few years whilst people learned how to fly helicopters without the further complication of a collective pitch system.
Cobra Kit details  -  Schuco-Hegi Cobra Kit details with photo's of actual kit and Emerson Fittipaldi flying his model; apparently he pick up how to fly in just a few minutes...!!!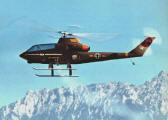 Jan 1972 - Hovering at 1800 ft above sea level in Corvara, Southern Tyrol, one of the first Schuco-Hegi kits.

Jan 1973  Schuco-Hegi Cobra review in UK
Helicopters had not been reviewed before and so this is a very comprehensive review.  Full technical description is given along with a comprehensive overview of all aspects of the build including techniques; so much so that it is better in many places than the supplied building instructions.  Unfortunately missing the last page of the flying review so not quite sure how Tony got on though there are high hovering shots so the assumption is he mastered it.
Unfortunately the partnership with Schuco-Hegi was to prove short lived and in 1973 they pulled out leaving Dieter with things in a disarray.  He decides to 'go it alone' and puts on hold his new projects to concentrate in keeping up spares supply and organising manufacture of the kits currently for sale.  The result being that in 1974 at the Nuremburg toy fair, 'Schlüter Modellbau' is presented to the world and the Cobra comes back under the Schlüter name.
Schlüter Cobra (1974)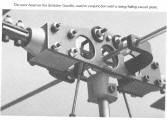 Expert rotor head.
Along with a new manufacturing name, Dieter also introduced his collective pitch rotor head which was available either with the kit or as an upgrade for an original fixed pitch model.  Collective range was not particularly large but at least now an approach to landing could be made without the inevitable reduction of rotor speed and controllability that was inherent with the fixed pitch layout.  The model could also be flown with a bit more 'gusto' with height control in the circuit and during manoeuvres a lot more precise.
By 1975 though still available it was not actively advertised and with the likes of the Kavan JetRanger, Graupner Bell 212 and Schlüter's own Gazelle, sales dropped right off.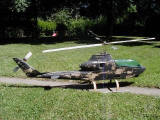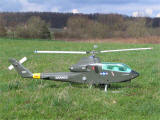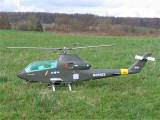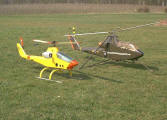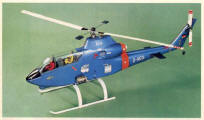 www.schluetercobra.de   Site run by Uwe Jantzen covering the Cobra in great detail and even includes shots of the 'made under license' Kalt Cobra.
As part of the vintage resurrection, in Germany, new mouldings for the Cobra with manufactured mechanics were produced and near enough full kits were available; as noted on the Helioldie site.