Schuco-Hegi DS-22 (1973)

Second 'kit' produced under the Schuco-Hegi distribution and based on the F-28 Enstrom_Shark; as a helicopter had been chosen for the first model, Dieter had decided the second should be a civilian type.  Utilised the same mechanics as the Cobra but was much easier to work on as the body was 'cavernous';  initially the model was sold with floats and this made it much easier to learn with.


Introduced at Nürnberg 1973  

UK magazine cover with Dieter and DS-22.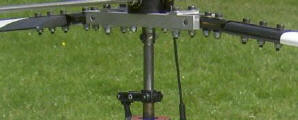 Flapping 'S' head early version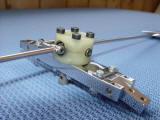 Late version fitted with square blade holders.
The DS-22 though was fitted with the fixed pitch 'S' rotor head.  An updated version of the original fixed pitch rotor head with pivoting blade holders in the vertical direction to allow the blades to 'take up' the natural coning angle depending upon the lift being generated and also to 'flap', depending upon cyclic lift variations as the blades move 'upwind' and then 'downwind'; no lead-lag facility. First batch of models had the 'round' blade holders but later in 73 this was changed to the 'square' type.
The model was noted to be slightly easier than the Cobra to fly and had the benefit of being smaller and so could be transported easier; the Cobra was long which made it difficult to fit into a 'normal' car of the 70's.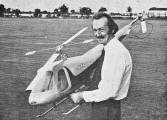 UK review of the Schuco-Hegi DS-22 in Dec 73 Radio Modeller
Unfortunately the partnership with Schuco-Hegi was to prove short lived and in 1973 they pulled out leaving Dieter with things in a disarray.  He decides to 'go it alone' and puts on hold his new projects to concentrate in keeping up spares supply and organising manufacture of the kits currently for sale.  The result being that in 1974 at the Nuremburg toy fair, 'Schlüter Modellbau' is presented to the world and the DS-22 comes back under the Schlüter name.
Schlüter DS-22 (1974)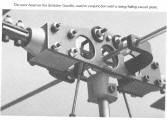 Expert rotor head.
Along with a new manufacturing name, Dieter also introduced his collective pitch rotor head which was available either with the kit or as an upgrade for an original fixed pitch model.  Collective range was not particularly large but at least now an approach to landing could be made without the inevitable reduction of rotor speed and controllability that was inherent with the fixed pitch layout.  The model could also be flown with a bit more 'gusto' with height control in the circuit and during manoeuvres a lot more precise.
DS-22 Kit details  -  Kit details and pictures of an actual kit.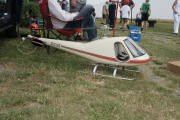 Modern Replica by Tobi Graef; built with all new parts.
Pictures of Schlüter DS-22 which is a 2006 build of an unmade kit.
Only had the one chance to test hover the DS-22 and that was in blustery condition and being fixed pitch it was difficult to get it to loose height from a high hover; I also found the tail control marginal however I think this was due to head speed as it appeared quite low at the time.  Managed to catch a main blade when throttling up and it broke off as they do not have any lead-lag facility; put into long term storage.