Early 2007 detailed triple Threat advert.
By late 2005 Quick had a number of large helicopters covering Nitro and petrol with a large electric powered helicopter in development.  Quick helicopters had always been of 'modular' design with a number of common components for the various models and versions so it was decided to combine their various 'big' helicopters to utilise this process.  So, Quick started promoting on their web site what they called "V.I.P." which by mid 2006 was also being advertised as the 'Triple Threat Helicopter'.  Late 2006 saw the introduction of the petrol and Nitro versions under the name of Dominator however, by mid 2007 the marketing strategy had changed slightly with a change to 'Triple Threat Series' as the electric version was not to follow the Dominator name. 
Quick Mighty Quick (2007)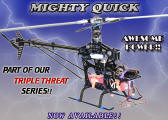 Unlike the rest of the Quick range, the Mighty Quick was only available in Sport G10 version, though with the option of belt or 'shaft driven tail.
 

Specifications

w/ Canopy 50 3/8 in
w/o Canopy 44 in

21.25 in

11.25 lbs

12- 15 Cell Lipo

Quick Power 5330

Phoenix Castle 110V

Fiberglass

710-800mm

85 - 110mm

3mm

1300-1500 rpm

13 Tooth

Pro - Dual Spindle (8mm)
Sport - Single Spindle (8mm)

10mm

One Piece CNC Tail

Dual Spindle Metal w/ Thrust
Bearings

PRICE CHART

Part Number

Heli Type

Combo/Kit

Price

$999.99

G10 Fiberglass Kit w/ Shaft Drive Tail

$1149.99

$1499.99

G10 Fiberglass Combo w/ Shaft Drive Tail

$1649.99
Warning: No images in specified directory. Please check the directory!

Debug: specified directory - http://www.vrhc.co.uk/images/RC_Helicopters/USA/Quick Worldwide/Mighty Quick/gal1
The Mighty Quick was to remain on the web site until QWW ceased trading.