Quick Little Sweetie 10 (2005)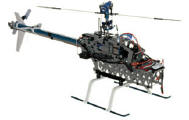 For 2005 the EP10 was brought up to date in order to match the 'look' and specifications of the other Quick electric helicopters; this was a fundamental redesign with a completely different frame layout with the basic layout common with the revised V2 version of the Sweet 16.
The model names also changed with the designation De-luxe and Standard being replaced with Pro and Sport so as to align the naming convention with the rest of the range; additionally, after introduction of the Sweetie 10 priced at Pro $400 and Sport $350, conversions kits were made available so that owners of the EP10 could upgrade to the equivalent Sweetie; costs for this were Pro at $160 and Sport $135.
Sport had G10 Fibreglass frames and boom, Silver anodized head with plastic main blade grips and NO autorotation capability; Pro had Carbon frames and boom supports, full metal head with thrust bearing plus autorotation.  Both models came with a gel coated canopy.
Batteries

12 cell NiMH
15V 3300mAh

4S4P Li-Po
16V 8800mAh

Motor

Aveox 36/30/2

Aveox 36/30/2

ESC

CC Phoenix 80

CC Phoenix 80

Motor KV

~ 1500 rpm

~ 1500 rpm

Pinion

11-12 tooth

11-12 tooth

Blades

Quick 475 mm

Quick 475 mm

Head Speed

~ 1700-1800 rpm

~ 1750-1900

Flight Time

6-7 min

18-22 min

Flying

Aerobatic / 3D

3D
Quick Little Sweetie 10 manual - Build manual with details of both 10 and 16 size machines.
Quick Sweetie 530MM (2007)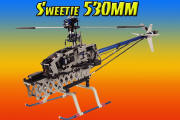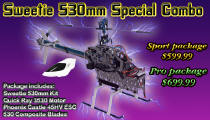 Sweetie 530MM and package deal advert.
By 2007 electric models were generally being classified by general electric motor definitions i.e. 400 / 450 etc or by their recommended blade size i.e. 550 / 600 etc.  To follow this same convention, Quick renamed their electric model the Sweetie 10 Sweetie 530MM. 
Whilst the machine was the same the power train had been updated and now a 8S layout (twin 4S batteries) with revised motor and ESC was recommended.
PRICE CHART

Part Number

Heli Type

Combo/Kit

Price

 

Sport

Kit Only

$349.99

 

Sport

Combo

$599.99

 

Pro

Kit Only

$399.99

 

Pro

Combo

$699.99

 
 

Specifications

49 in. w/ Canopy
43.5 in w/o Canopy

7lbs (3.2kg)

4S+4S= 8S (32.6V)
for 4000mah

Quick Ray Power
3530/10 OEM

655 - 750

Phoenix Castle 45HV

Quick 530 - 550mm

1700 - 2400

10 - 16 tooth

Aerobatic to 3D

According to MAH
 

Differences Between Sport and Pro Kit

 

Sport

Pro

G-10 Fiberglass

Carbon Fiber

Silver Anodized w/ plastic blade grips

Fully Metal Head w/ Thrust Bearings

No

Yes

Fiberglass

Carbon
This model not to remain in the range long as later in the year it underwent another redesign to come out under the new name of the Quick Superfly.