Morley Hughes 300 (1983)

  orley

May 82 release intentions  

Dec 82 pre release info  

Release advert 
Morley Mk3 Hughes 300 development  -  Article covering prototypes and design philosophy.
Practical scale model that used a lot of plastic parts to replicate the very distinctive features of the full size. 
Collective pitch model but relied on the 'Hiller' system for cyclic control which gave reasonable 'scale' like performance.
Morley Hughes 300 review  -  By John Barrow for an article in the BRCHA newsletter; build and flying review of a pre-production model; copied from a type written draft...!!!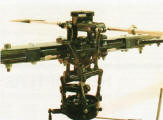 Later in 1983 saw the introduction of the head upgrade kit to incorporate Bell-Hiller mixing for increased cyclic response. 
Early 1984 saw the introduction of the three blade head for the Hughes 300 to give greater scale fidelity.
The final version of the model came with an aluminium tail boom instead of the early plastic type as this had proved very vulnerable to damage.
| | |
| --- | --- |
| advert date unknown but mentions the auto unit???? | 1984 - improvement notes |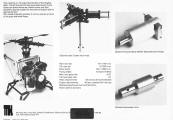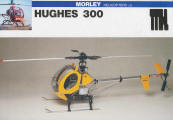 Later adverts and model variant with alloy boom.