Morley Maverick

Designed for the 'Sport' flyer allowing progression from basic 'learner' to aerobatics.
Blade holder thrust bearing upgrade
Maverick Clockwise addendum - To reverse the direction of the main rotor
Morley Maverick XR
Upgraded specification utilising a bigger engine and larger blades thereby making it more suitable for aggressive manoeuvres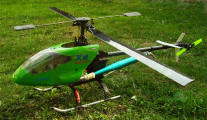 These photos from the Busy bee flying club web site.  www.busybeemfk.se/
In construction, the Maverick was quite basic and used many plain bearing where other manufacturers had already moved to full ball bearing assemblies.  From this it was possible to upgrade the maverick head to full ball races which removed a lot of the 'slop' after prolonged use.  Additionally, many lightened parts were brought out thus greatly increasing the performance, see upgrades below.
Morley Maverick Hughes 500E (1995)


Body conversion for for both Maverick standard or XR mechanics.   
Introduced in 1995 and came in two colours, Red or White and a very quick fit assembly .
Morley Maverick Extras and upgrades

No3


No4


No5

N06


no7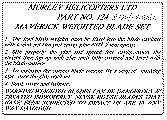 Weighted blades warning 
The Maverick was upgraded over the years to incorporate 'lessons learnt' or just to give that extra 'Bling' and these were promulgated in regular newsletters.  Check out No7 for the final list of upgrade; an XR built to this spec was a very potent machine...
Additional marketing of the Morley Maverick included key fobs, wall clocks and pre-loaded models on the flight simulator of the period the TRU-FLIGHT.  Specials offers were also available when ordering the Rossi 53 helicopter engine.