Kyosho Concept_30 DX / SE (1988)
The Concept_30 was introduced in 1988 but quickly established itself as one of the best selling helicopters in the world and for a good reasons; it had the stability needed by beginners, yet it could perform aerobatics with ease. However, that was not really surprising since it was designed by the first world FAI F3C Helicopter championship winner Shigetada Taya.
The design brief was to produce a helicopter that would suit both beginners and experts alike; not possible of course with a single machine.  However Taya designed a machine to suit the experts which had good control then basically 'detuned' it for beginners by utilising heaver flybar paddles.  The model was also supplied with two tail rotor types; the normal holder with bearings or a 'bearingless' type; additionally to reduce cost the number of bearing in the models was reduced from 31 in the SE to 18 in the DX.    
The original DX model was updated to the SE version late in 1989. 

Kyosho Concept_30 SX
Kyosho Concept_30 SR

The Concept_30 SR was developed from the Concept_30 and incorporated a number of improvements identified from review and customer recommendations.  Though a very good helicopter the compromises made to fulfil the trainer role meant that its aerobatic performance was adequate but not outstanding.  It was more than obvious that whilst a generic helicopter design could be used, it would require two separate versions to fulfil both 'Trainer' and 'Aerobatic' requirements.
  
Kyosho Concept_30 SR-X

The Concept SR-X (X for eXpert) was designed for a higher aerobatic specification.  All moving parts were designed to reduce friction to a minimum and both the aileron and elevator controls (left/right and fore/aft cyclic) featured a push-pull linkage layout which guaranteed reliable manoeuvrability.  The Concept SR-X also had an all-new tail rotor pitch control mechanism with twin ball raced tail rotor grips for greater control and tail accuracy. The tail drive linkage being updated to the Concept_60SR spec with a shaft running in a tube for minimum wind-up. New stiffened front servo frames were also used but still featured the same unique Concept_30 engine layout with integral clutch and drive gear making starting easy - without the need for belts or extensions.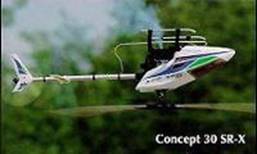 Kyosho Concept_30 SR-T
Whereas the Concept SR-X was designed towards increased performance the Concept SR-T (T for Trainer) was developed for the other end of the market and including a longer tail, long main blades, taller main shaft, improved head design and rotor grips. These modification resulted in increased stability and a more forgiving flight pattern which could take someone from 'tyro' to intermediate ability.  The Concept_30 SR-T also proved to be very reliable and economical to operate.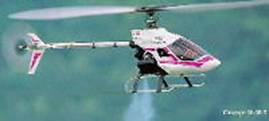 Kyosho Concept_30 Upgrades
No sooner has a new version of a RC helicopter (or near enough anything for that matter) been released then the comments 'why didn't they' or 'if that was a little different' will be heard; shortly followed by upgrades and aftermarket parts.
Concept_30 Z-31 HP Flapping Head - Zeal 'official' upgrade for all versions of the Concept_30.  Incorporated a connection between the two blade holders so that as one blade flapped up, the other flapped down.  Similar principle to the soon to follow on 'feather' shaft system.
Concept_30 NHP Tail rotor pushrod upgrade - Rear mounted tail servo upgrade in order to provide a more direct and positive control of the tail blade pitch.  The Concept with its rear engine start position was not ideal for this and a starter extension was recommended.  The mount could be so positioned in a way to clear a normal starter; though the pushrod run was not quite as straight.
Compilation of useful modifications and recommendations to the range.
Kyosho Concept_30 Scale Fuselages
Kyosho developed a number of fuselages specifically for the Concept_30.  Whilst the rear start design of the Concept_30 layout did mean that a starter extension was an absolute necessity, it was better than the belt types which tended to damage the fuselage if not used with care.  Fitment of the bodies were quite straightforward as the mechanics were kept in pod and boom format with the fuselage designed as a 'hang on' item and not as an 'integral' part of the frame.  Both the Hughes 500 and JetRanger used the normal 'skid' type of U/C legs.  The Bell_222 however was fitted with retracting undercarriage and the result was a very effective scale model.

Due to the popularity of the Concept quite a number of after market body kits also became available.
Hughes 300


Hughes 500


Bell_222


JetRanger
Interceptor -F3C fuselage