Schlüter Superior (1983)
 

  Specification:


| | |
| --- | --- |
|  Length |  1400 mm |
|  Width  |   mm |
|  Height  |   400 mm |
|  Rotor Head |  collective head System 80 |
|  Main Rotor Dia |  1400 mm |
|  Tail Rotor Dia |  270 mm |
|  Engine |  .60 cu in  (10 cc) |
|  Gear Ratio |  1 : 9 ( 1:6.66 - 1:10) |
|  Weight |  4500 g - 4800 g |

Documents: 


Superio Bauanleitung

Exploded view
 
 
 
The Heli-Boy had been developed with new type rotor head, swashplate and tail assembly and the revised version, to be brought out in 1983 was initially know as the Heli-Boy - Superior.  However, as the Heli-Boy standard was also to be kept in the model range it was decided not use the Heli-Boy reference and to call the revised version just by the name Superior.  The model also featured a canopy that fully enclosed the mechanics thus providing better streamlining to give smoother aerobatics and also differentiated the model from the basic 'pod' of the Heli-Boy.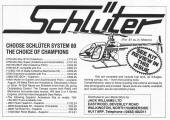 1983 Jack Williams (UK) advert.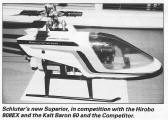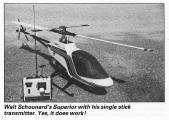 1983 from Schlüter USA (Miniature_Aircraft) and Walt Schoonard uses a 'single' stick transmitter; an American preferences.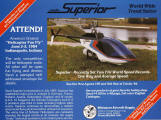 1984 advert from Schlüter USA (Miniature_Aircraft) and Superior - August 1984 Review by Len Mount and Mike Johnson from Radio Controlled helicopters.        
Tail gearbox assembly  -  1985 article with hints for assembling Schlüter tail gearbox and tail rotors.

Modern restoration below