Box art photo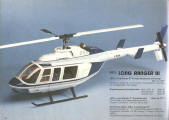 1984 Catalogue   

 1992 Catalogue
Scale model designed to take Champion mechanics.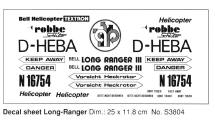 Decal sheet.
Kevin B (RunRyder 2011)
I put an SK360 into a 25 year old Schlüter Champion Long Ranger. Fly's great! I was even able to convert the stock rotor head to FBL by literally just removing the flybar and rotating the flybar carrier block 180 degrees.
- SK360 FBL electronics
- using a JR 450 rate gyro for the tail rotor since it is only a wire drive tail and likely wouldn't take the loads a heading hold system would produce.


Long Ranger III signed by Mr.Schlüter in 2013.