The Hughes came in three versions 50 glow size and petrol model Vi and V2 with the 20cc 'echo' petrol engine.
Reported to have flown well but too soft a material used for the arms on the blade holders and the main frame with the result that they were prone to suffering vibration.  The blades also needed to be tightened up and not allowed to swing free plus they required 'high point' balancing otherwise serious vibration  resulted.  However, with care in setting up they could be vibration free.      
As can be seen from the photo's there are two distinctly different flybar type heads (early models with flybar above the main blades) plus the three blade scale version.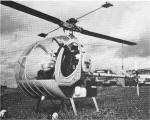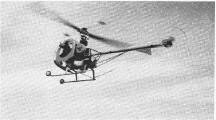 Helipad -  Helicopter column from Jan 1982 Radio Modeller by John Heaton; including a review of the KKK Hughes 300.

Sep 1982 advert from UK supplier Dave Nieman.
Hughes 300 build diagrams  -  Swedish version