Schlüter Bell_222 (1977)
 


  Specification:


| | |
| --- | --- |
|  Length |  1320 mm |
|  Width  |  mm |
|  Height  |  mm |
|  Rotor Head |  collective head |
|  Main Rotor Dia |  1300 mm |
|  Tail Rotor Dia |  270 mm |
|  Engine |  .60 cu in  (10 cc) |
|  Gear Ratio |   |
|  Weight |  4400 g  |

 

Documents: 


System 80
Bauanleitung
 
 
 
 
Reports:
 
 
 
 
Developed through late 1976 and presented at the Nürnberg show in Feb 77.  When Dieter looked to move away from the 'Flatbed' type mechanics as they were costly to produce and 'fuselage' type models were difficult to repair if damaged and still keep the body alignment.  For his next scale helicopter he used the large 60 size pod and boom mechanics he had previously developed before the Heli-Baby as a 'spine' with the body a separate entity.  The idea being that with a set of common mechanics it would be easier to produce any number of different scale subjects which had a 'standard' helicopter layout.  Additionally, the mechanics could be test flown on their own in order to ease setting up and not 'risk' the expensive scale bodywork and as looks did not really matter a canopy was produced more to protect the radio gear then anything else.



Original Bell_222 collective pitch 'Hiller' head.
The experience with the Heli-Baby had been put to good use and a number of changes were made to the mechanics, most minor detail like the use of ball bearings instead of plain bushes plus, with a collective pitch head as standard it utilised the 'pitch compensator' linkage in order to increase tail rotor pitch automatically with collective pitch.  However, the most negative comment was on the need to start by belt.  This had the risk of damaging the model when being used especially a scale model as the belt had to be run out of the body in order to get it clear enough to use a starter.  It also needed a good pull in order for it not to slip, and a sideways pull at that plus the risk that if it came loose it could jam in the flywheel and crash the model (though so far I have not found any comment this had ever happened JWR-2012).To alleviate this need the clutch and output gear shaft was hollowed out so that another shaft directly connected to the inner clutch/flywheel could pass through it and terminate in a cone positioned directly in front of the swashplate.  It was therefore now possible to start the engine from the top of the machine by using an extension shaft with cone fitted to a normal electric starter; helicopters were now as easy to start as their 'fixed wing' brethren.
This major upgrade to the mechanics was an obvious big step up when considering use in scale machines as getting to the starting belt had always been the cause of many a problem with some models proving almost impossible to access.  Downside was that for scale you now had this silver cone 'poking' up but overall it was considered a success.
The 'basic' version used the normal skid landing gear for a uT version of the Bell_222 however, a set of tricycle gear was available though it was NOT of the retracting kind or very scale looking.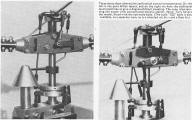 Upgraded in 1978 with Bell-Hiller head.
Bell_222 review  -  Building and flying review from Apr 78 Radio Modeller. 
Flown in 'trainer' configuration i.e. Pod & Boom, it had good stable flying characteristics but the test only covered the original 'Hiller' head; the Bell-Hiller he was keeping for later in order to make a comparison between the two.
With the revised Bell-Hiller head and in 'Trainer' configuration i.e. as a pod and boom machine the Bell_222 mechanics proved to be extremely good at aerobatics and it was commonly being flown in this configuration instead of having its bodywork fitted.  However, a pod & boom model with only a small nose cone was obviously NOT a Bell_222 as that was a scale helicopter so to save confusion, in this format it was formally brought out as a model in its own right and called the Heli-Boy.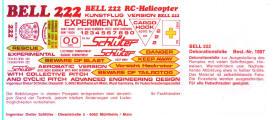 Basic build instructions and decals.
Various assembly drawings and templates
Tail gearbox assembly  -  1985 article with hints for assembling Schluter tail gearbox and tail rotors.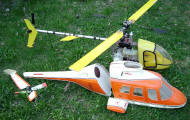 with modified head 
Schlüter Bell_222UT (1989)

 1992 Catalogue
Scale helicopter designed to use the Junior 50 II mechanics.